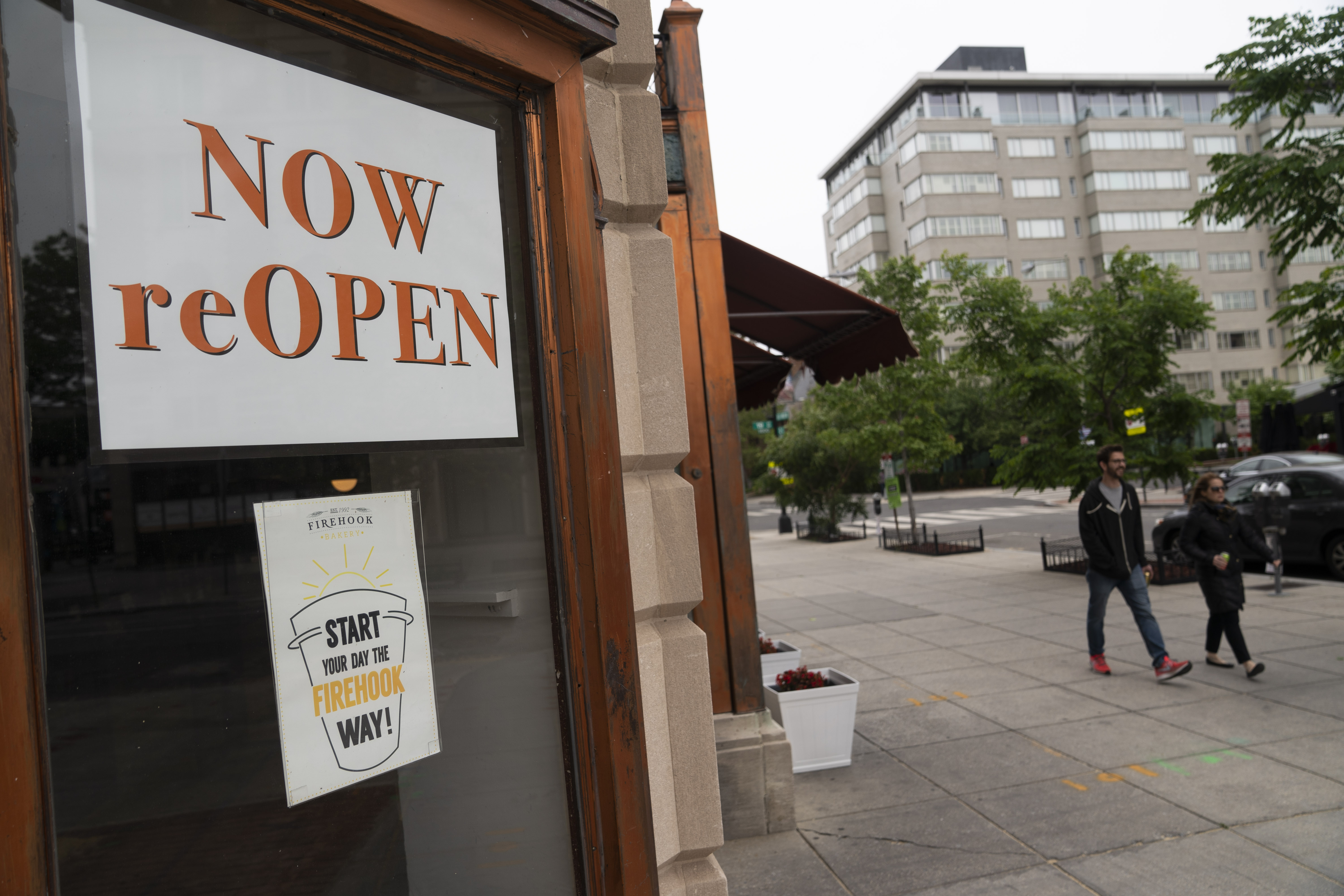 Pedestrians walk past a reopened bakery in Washington D.C., the United States, on May 19, 2020. [Photo/Xinhua]
When many Chinese provinces cut new transmissions of the COVID-19 to zero at the end of February, people were excited. Municipal parks began to open up. I saw people in Nanjing out fishing along the Yangtze River.

Then, on April 8, the country celebrated when Wuhan, original focus of the disease, reopened. Now restaurants, internet bars, and karaoke have all reopened, and the number of new cases most days remains about zero.
When China, South Korea, New Zealand, and other countries mostly in Asia, have begun to return to normal, there were feelings of jubilation. It felt like a victory. China had endured the first lockdown, which was very harsh in some places. It was a struggle. But they had success to show for it, and a sense of ease has grown apace.
Although consumption still hasn't return to the old level, friends in the Chinese tourism and other business sectors tell me people are out and about and spending. GDP numbers reflect that fact. Already, a month ago, China was showing positive growth, while most countries were on the negative side.
Now that America is reopening for "business as normal," there is no sense of celebration or victory, just apprehension. Restaurants are open for indoor dining in a total of 40 states; yet, how can we take advantage of that when there are still so many new cases of the coronavirus being spread?
Let's put things in perspective with a comparison between the U.S. and New Zealand: On May 14, America's National Public Radio reported that "after days of no new coronavirus cases, New Zealand reopens." In the case of the United States, that would have to read, "After over 20,000 new cases every Day for three straight months, America reopens."
All 50 mainland states have rescinded their "stay-at-home" orders. Large scale protests are taking place across the whole country, ignoring social distancing. Las Vegas casinos are even open, with almost no one wearing masks.
Americans are gambling with their lives.
Not all Americans, it seems, are apprehensive about going out. The Lake of the Ozarks, a pool resort in a national park in Missouri was completely full of partiers over Memorial Day weekend (May 22-24), where at least one attendee tested positive for coronavirus. "It [coronavirus] is not something that should control our lives," a vendor at the resort said.
If you know that, on average, the people crowding into saloons and malls are taking few precautions, then that makes it all the more dangerous to spend too much time in any public place.
Already the beginning of a second wave has been detected. On June 6, there were 28,300 new cases recorded, highest one-day total in the country since May 8.
Some of the states that took weak measures in the first place are seeing the biggest spikes. In Arizona, for example, June 5, 6, and 7, consecutively, recorded its three highest new case totals yet, and Arizona's seven-day average increased five-fold.
Florida and Texas, which were two of the first states to allow businesses to reopen, have also recorded record spikes. From June 3-7, Florida had over 1,000 new cases every day. On June 9, Texas recorded 1,945 new cases.
America has a long way to go before coronavirus is under control, and yet, most states have abandoned a State-mandated social distancing policy. The federal government, which never had much policy to speak of, has abandoned coronavirus press briefings. Donald Trump refuses to wear a mask and personally attacks people, like Joe Biden and White House reporters, who do so.
Every major consumer goods company in America has been running television ads these past few months telling us how hard they are working to protect their employees from coronavirus, with assurances that, "We are all in this together."
However, if you see folks walking around downtown with their masks down, and if you see mayors encouraging tourists to come from out of state to gamble, for instance, you might not think so.
Now, coronavirus protection for Americans is a purely personal decision.
Mitchell Blatt is a columnist with China.org.cn. For more information please visit:
http://www.china.org.cn/opinion/MitchellBlatt.htm
Opinion articles reflect the views of their authors, not necessarily those of China.org.cn.
If you would like to contribute, please contact us at opinion@china.org.cn.