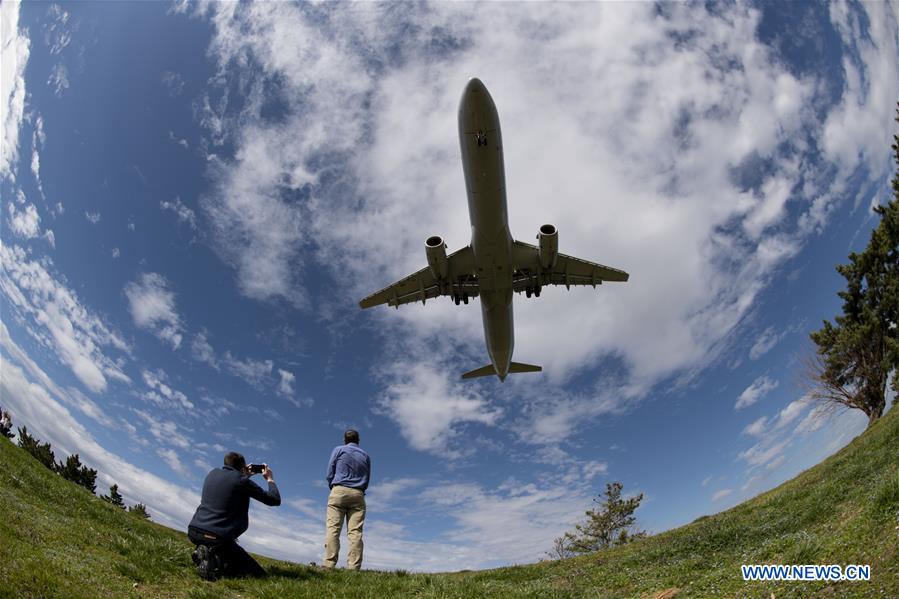 A plane approaches to land at Ronald Reagan Washington National Airport in Washington D.C., the United States, on March 10, 2020. [Photo/Xinhua]
At the height of America's ongoing struggle with COVID-19, flights on nearly 10,000 domestic air routes were canceled. In addition, many travelers rationally chose to cancel flights purchased before the outbreak had gotten serious.

For those who canceled their flights of their own volition, there was no refund. Although most airlines did change their policies to give credits for future flights, they were not required by any national regulations to do so. The flight credits, moreover, are cumbersome and force travelers to use only one airline.
Now, a group of senators, including Democrats Kamala Harris and Sen. Elizabeth Warren, both reportedly being considered by Joe Biden for the vice presidential nomination on his ticket , has sponsored a bill to change that.
The "Cash Refunds for Coronavirus Cancellations Act of 2020" would force airlines to give straight cash refunds.
Something does need to be done about the terribly lackluster service being offered by American civil airlines, although I don't know if this bill is the right one, because the severity of the outbreak in America – where over 20,000 new people continue to test positive on a daily basis – is already well known to anyone purchasing airline tickets.
Nevertheless, this bill does make me think about how troublesome travel is in America compared to other countries, including China.
Chinese airlines typically provide better service than their American counterparts in almost every aspect. From greeting passengers with a smile and a copy of the latest newspapers to full-fledged in-flight service and providing meals, they go beyond what Americans have come to expect but don't necessarily get.
In terms of compensation for cancellations and delays, China has both consumer protection regulations as well as suitable policies implemented by each individual airline. Airlines will provide meals and accommodation free of charge if a flight is canceled due to their own fault, such as maintenance or crew problems.
According to the Civil Aviation Administration of China, if a flight is canceled due to bad weather, the airline should "assist in arranging meals and accommodation at passenger expense." Some airlines will even offer compensation for flights delayed by three hours or more.
In my experience, airlines in China are quite responsive. When one of my flights on Air China was delayed by about four hours a few years ago, the gate agents offered boxed meals and cash compensation.
By contrast, trying to deal with airlines in the U.S. is like talking to a rock. They do not respond promptly, and they deny all requests. A few times, major airlines have even lied to me, blaming cancellations on "weather" when I found out later it was because of staffing issues.
My observations are backed up by international rankings of airlines. Looking at AirHelp's 2019 figures, China Southern Airlines scored 8.3/10 for service, and China Eastern 8.1, while the top-rated airline in the United States, American Airlines, scored 7.9.
Air travel is just the tip of the iceberg. With high quality rail services across the whole country, transportation in China has become much more convenient than in the United States.
In fact, I usually travel by train in China, as it's convenient and comfortable. Travelers save time, as checking in is easier. During this past Spring Festival travel rush, I noticed how quickly passengers entered the station with their relevant ticket information being on their phone or their ID cards; e-tickets went national for all high-speed trains in 2019.
Journalist Wang Junwei wrote: "Electronic payment and e-tickets have profoundly changed people's lives since they have become increasingly popular for commuters taking a bus and/or metro in China. In this way, the advanced technology will help passengers save the time involved in using paper tickets, making travel more convenient and comfortable."
The U.S. really could learn a lot from China in regard to travel convenience.
Mitchell Blatt is a columnist with China.org.cn. For more information please visit:
http://www.china.org.cn/opinion/MitchellBlatt.htm
Opinion articles reflect the views of their authors, not necessarily those of China.org.cn.
If you would like to contribute, please contact us at opinion@china.org.cn.