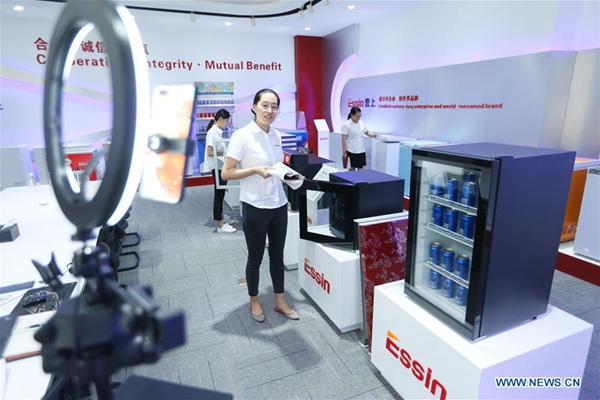 A sales representative (front) of electrical appliances manufacturer Essin promotes refrigerators via a livestreaming channel of the 127th China Import and Export Fair in Qingdao, east China's Shandong province, June 15, 2020. [Photo/Xinhua]
Canton Fair, also known as the China Import and Export Fair, is one of the world's largest trade fairs. Held in Guangzhou, the fair attracts hundreds of thousands of buyers and sellers every year. This year marks the 127th time th edecades-old mega-fair has been held. Due to the impact of the COVID-19 pandemic, this massive annual event, which was kick-started on June 15, is being held online for the first time in its history. Given the economic fallout brought about by the pandemic, this international trade fair will help to boost the slow international trade and assist indirectly in the global fight against the virus.
The 10-day virtual fair has successfully managed to attract more than 25,000 enterprises, exhibiting nearly 1.8 million products to serve hundreds of thousands of buyers from across the globe. While most of the world's international trade fairs are being canceled or delayed because of the COVID-19 crisis, China, resolute in opening-up its economy further to the world, succeeded in steadily transforming this event into an enormous virtual platform and opening it free of charge to anyone interested in participating.
This initiative to transform the fair into a virtual event benefiting international trade could prove to be a significant landmark for the country. China's extensive high-tech infrastructure, comprising 5G, big data, Internet of things, virtual reality, and AI, has enabled the nation to achieve this feat.
The online trade fair provides a convenient platform for participants and helps restore confidence in China's economy and business stability among domestic and global buyers and sellers following the epidemic.
China's foreign trade of goods decreased 4.9% year on year to 11.54 trillion yuan between January and May. However, the nation's exports increased by 1.4% year on year in May, indicating a slow recovery. As per estimation, the 10-day event would help tremendously in bringing back optimism in the nation's robust supply chain. Moreover, the success of this virtual mega-fair can pave the way for similar events in the future by providing strong support in the recovery of production, manufacturing, and other businesses across the globe.
The fair is not only crucial for China's foreign trade, but it is also a rare technological experience and business exploration for the world.
It provides a substantial opportunity for both old and new participants to showcase their company's production, innovation, and customer service capabilities, along with their commitment towards keeping the industrial supply chain stable.
Virtual fairs help exhibitors to save a ton on resources, allow them to capture the information using big data, and make it easier for participants to attend. Therefore, by looking at the overall convenience and economic benefits derived by both domestic and international participants from this mega-event, it seems that this is just the beginning of the trend towards many future virtual fairs facilitated by the latest digital technologies.
Rachana Gupta is a blogger, poet, and freelance content writer. She is also the author of the book "To The Horizon We Indeed Sail."
Opinion articles reflect the views of their authors only, not necessarily those of China.org.cn.
If you would like to contribute, please contact us at opinion@china.org.cn.