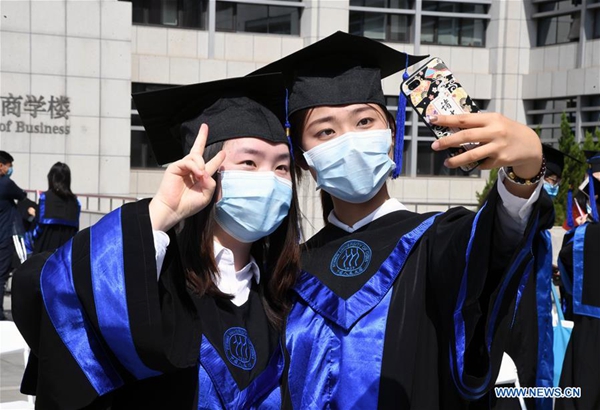 Graduates pose for a photo after the commencement ceremony of Renmin University of China in Beijing, June 30, 2020. [Photo/Xinhua]
Graduation from university is meant to be one of life's memorable moments – a mark of completion of a lifetime of education that started in early childhood. It is also a time when friends and family come together to not only celebrate your achievement but also signify the beginning of your real adult life, the start of an illustrious career in whatever field you have chosen.

However, during the COVID-19 pandemic, face to face graduations have become impossible, with many universities around the world putting an unprecedented hold on the global student population. However, China has come up with several ingenious solutions to ensure those who have successfully graduated deserve the best possible mark of respect. The technologies that have been pioneered for this purpose all have interesting, far-reaching applications that add to China's exciting technological future.
Nanjing University of Posts and Telecommunications managed to graduate 1,500 master's and Ph.D. students with the help of several robots. The robots each carried a tablet with cameras to allow graduates to interact with the principal via a video link. According to China Youth News, the robots were built by the university's robotics club and received universal appraise.
The telepresence field is rapidly growing, meaning the research and development of robots, which include a video camera, screen, speaker, and microphone, enables people to interact through the robot remotely. Interest is gaining for industries where remote working is essential. It also provides the scope for operators to have multiple robots in different locations, providing a level of omnipresence made possible with today's technology. Such robots are also surprisingly affordable for companies to purchase for employees, as many are compatible with smartphones and tablets to provide the link. The use of telepresence in a graduation ceremony is the first of its kind and indicative of the innovative direction China is heading in.
The Communication University of China has gone one step further by holding a graduation ceremony in the virtual world of Minecraft. In the online game, players can move around a set space and talk in an area built using building blocks made by the creators to resemble the south gate of the university campus. The stream of the live broadcast ceremony, which was attended in the middle of last month, kept costs down to a minimum and cost only a fraction of what it would have done to host a physical event in real life.
Meeting in a virtual world is also another exciting area of technology, where costs can be kept to a minimum and time and effort is not spent on transportation. When the level of environmental rendering reaches a level where people can communicate just as effectively as in real life, it is difficult to imagine how the expensive and time-consuming costs of real-world events can compete with this new field. The next step will be events in virtual reality, where users will be able to physically walk around and interact with an augmentation of their fused environment with other people. In the coming decades, virtual reality headsets will be able to facilitate this into mainstream practice. The ingenious solutions that Chinese universities are coming up with to ensure that youth educational achievements are celebrated are significant and pave the way for how we will all come together and express ourselves for decades to come.
Jorge Holloway is a global technology and business commentator based in London, initially specializing in start-ups and technology PR.
Opinion articles reflect the views of their authors only, not necessarily those of China.org.cn.
If you would like to contribute, please contact us at opinion@china.org.cn.