Over the past few months, a series of sand painting videos "A letter to friends" carrying warm wishes from Chinese youth to their peers in 17 coronavirus-stricken countries went viral on social media and received positive responses from these countries.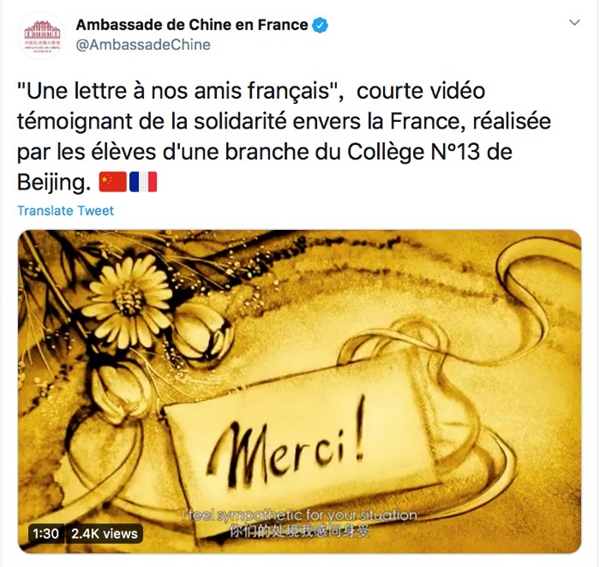 Screenshot from the twitter account of Chinese Embassy in France [Image provided to China.org.cn]
Since April, hundreds of students from primary and secondary schools in Beijing have written encouraging letters to their counterparts in 17 countries including Japan, South Korea, Iran, Pakistan, Hungary, Greece, Italy and France.

Incorporated into short videos with sand painting images, these letters are being transmitted by the China Soong Ching Ling Foundation (CSCLF) and spread on social media via the accounts of the related embassies and official press agencies to show the care and concern for those affected by the pandemic.
As of June 15, the videos had attracted more than two million views, 7,000 likes, reposts, and comments. Foreign netizens, teenagers and embassies have expressed their gratitude and good wishes of developing lasting friendships with Chinese people.
The video posted on the official twitter account of the Chinese Embassy in Japan reported 130,000 views and received over 1,000 likes. Many Japanese people expressed their good wishes for friendly exchanges among countries and called for joint efforts to fight against coronavirus.
"We appreciate our friends in our fight against coronavirus. They are sending us equipment and masks and showing us how to respond to this challenge," a grade four student in Roots Millennium Schools in Pakistan said in a video recorded in response to the letter.
"The friendship between Pakistan and China will never end. I think we should stay in contact and exchange ideas." Pakistani Television and mainstream media also reported on the event.
Mate Imre Pesti, the Hungarian ambassador to China, wrote a letter in reply to Beijing Xinghuo primary school students and the CSCLF, expressing his gratitude for the helpful and caring attitude of Chinese pupils. He said that "in the face of the current pandemic, we fully realize that we can only meet the challenge with solidarity and mutual assistance."
This event is co-sponsored by the CSCLF and China Public Diplomacy Association, and organized by the CSCLF Science and Culture Center for Young People, to encourage exchanges among young people around the world and the joint efforts to control COVID-19.