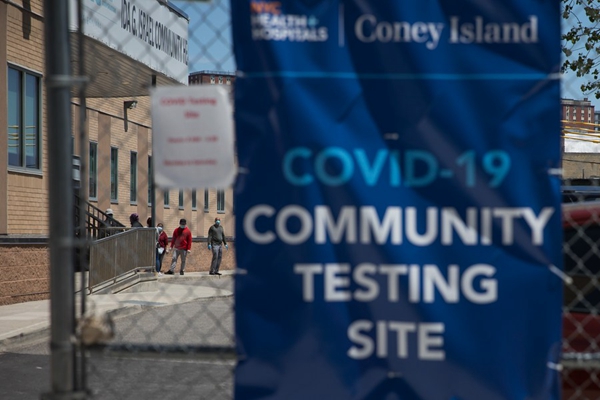 People wait at a COVID-19 community testing center in the Brooklyn borough of New York, the United States, May 14, 2020. [Photo/Xinhua]
The Washington Post reported recently that the Trump Administration is trying to block billions of dollars due for allocation to the Centers for Disease Control and Prevention (CDC), along with money for states to conduct testing and contact tracing under an upcoming coronavirus relief bill.

Such an intention will definitely undermine the ability of the United States to combat COVID-19, likely resulting in the deaths of a large number of innocent people
Donald Trump has said multiple times that he intentionally cut America's testing capabilities in order to achieve underreporting of cases for his perceived political benefit.
In an interview with Fox News on July 23, he said: "It makes us look bad … if instead of 50 million [tests], we did 25 million, we'd have half the number of cases."
That was not a one-off comment. At his late June rally in Tulsa, Oklahoma, to a quarter-full arena crowded with unmasked fans, he said, "I told my people, 'Slow the testing down please!'" He elaborated in an interview the next day, saying, "I don't kid," and, "By having more tests, we have more cases."
What is happening is that the U.S. is not finding all the cases – not anywhere near it – because only people with the worst symptoms are able to get tested. The American test positivity rate is many times higher than other countries – 9% of those tested in the past week have been found to be infected.
That compares to 1% in Canada, 0.5% in Australia, 0.5% in South Korea, and 0.2% in Malaysia.
Despite the officially-reported undercounting, the U.S. still leads the world in new cases and deaths caused by coronavirus in both absolute and per capita terms, too.
While some European countries had worse outbreaks at the outset, they have been more successful in slowing down the spread. By late June, the U.S. had surpassed all major European countries, including the U.K., in terms of weekly deaths per capita. Throughout July, the number of new deaths has been rising.
Now, Trump threatens to block a coronavirus bill if it includes funding for testing. This will surely put the lives of Americans at an increased risk.
We know that coronavirus kills large numbers of people and leaves many more with permanent health problems that will cause them to die sooner than they might otherwise have done. We know how to slow the spread of the disease through testing, tracing, isolating, and wearing masks.
Nor are the costs of taking such preventative measures insurmountable. Wearing masks, for example, imposes no cost whatsoever on the people wearing them, yet Trump was deriding this simple protective procedure for most of the pandemic, and has still not made it a mandatory procedure.
Testing doesn't hurt the economy and in fact makes it easier to approach near normality of economic activities once again.
These are not hypotheses but observed facts based on months of data collection and experiences in labs and countries throughout the world.
Trump seems to indicate that he understands testing finds cases. He knows – or should know – that coronavirus spreads even in asymptomatic cases and that by restricting access to testing, many people will not know they have the disease – perhaps until it's too late. That is, explicitly, his stated justification for cutting back on testing.
He also directed the CDC to stop publicly reporting the numbers of coronavirus cases but rather to send the numbers to the White House first, which sounds suspicious.
Trump's plan to manipulate the numbers by cutting down on testing is out in the open because Trump himself is talking about it every chance he can get.
Pathetic is America's failure to contain coronavirus. Pathetic is a president who takes perverse pain in the suffering of his own citizens. With 1,000 Americans dying every day, it seems that Donald Trump cares more about his own political interests than he does about saving lives.
Mitchell Blatt is a columnist with China.org.cn. For more information please visit:
http://www.china.org.cn/opinion/MitchellBlatt.htm
Opinion articles reflect the views of their authors, not necessarily those of China.org.cn.
If you would like to contribute, please contact us at opinion@china.org.cn.