Several high-profile older releases and new Hollywood blockbusters, including the first installment of the Harry Potter franchise and Oscar-winning "1917," announced release dates in China.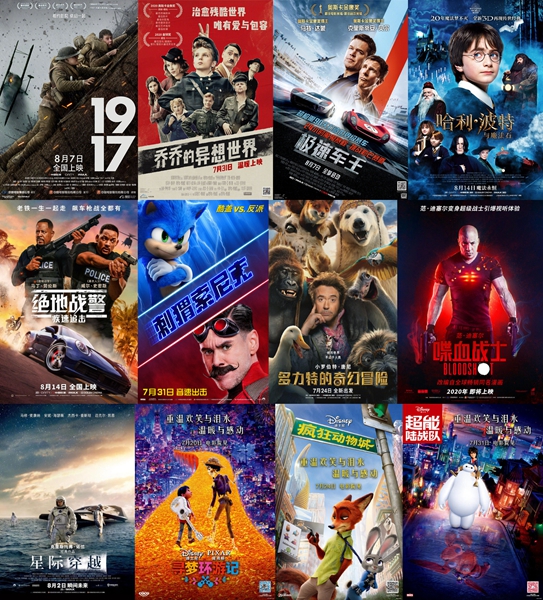 Posters of Hollywood movies that will be released or re-released in China. [Images courtesy of Hollywood studios]
The new releases include "1917," "Jojo Rabbit," "Ford v Ferrari," "Bad Boys for Life," "Sonic the Hedgehog," "Bloodshot," and "Dolittle."
Sam Mendes' "1917," a Universal Pictures/Amblin Partners war epic based on a battlefield story in World War I, won Oscars this year in three technical categories - best sound mixing, best cinematography and best visual effects. The film is co-produced by China's Alibaba Pictures and will be released in China on Aug. 7.
The Walt Disney Studios and Fox Searchlight Pictures announced that "Jojo Rabbit" will premiere in China on July 31. The American comedy-drama about a Nazi boy featuring the signature humor and pathos of writer-director Taika Waititi will be shown in theaters under the National Alliance of Arthouse Cinemas (NAAC). The film also won an Oscar for the best adapted screenplay.
Another new release from Disney will be James Mangold's "Ford v Ferrari," a 20th Century Fox production based on a true story that narrates the tale of how Ford managed to take Ferrari's championship title at the 24 Hours of Le Mans in France in 1966. The film stars Matt Damon and Christian Bale and won Oscars in film editing and sound editing. It will land in Chinese theaters on Aug. 7.
Sony Pictures' "Bad Boys for Life," directed by Adil El Arbi and Bilall Fallah, saw the original duo Will Smith and Martin Lawrence return as Miami detectives against drug lords. It will hit Chinese theaters on Aug. 14. Currently, it is the highest-grossing film worldwide for 2020, as it has already grossed $419 million worldwide following its release in the United States and other markets in early January.
"Sonic the Hedgehog," a Paramount Pictures blockbuster directed by Jeff Fowler and starring Ben Schwartz, James Marsden and Jim Carrey, is currently the second-biggest film for 2020. It has grossed $306 million worldwide following its release in the United States and other markets in mid-February. Its release date in China is July 31.
The first two Hollywood releases, Universal Pictures' "Dolittle" and Sony Pictures' "Bloodshot," opened in China on July 24. "Dolittle" has collected $224 million since its release in January 2020 in other markets and is currently the third-biggest hit on the worldwide box office chart. "Bloodshot" ranked 11th on the worldwide chart as it has grossed $30.2 million since its release in March, when more and more cinemas closed down worldwide under the pressure of the COVID-19 pandemic.
To delight Chinese audiences and create a nostalgic feeling, Warner Bros. announced that it will re-release "Harry Potter and the Sorcerer's Stone" in a 3D and 4K high-definition version on Aug. 14 to celebrate the 20th anniversary of the first "Harry Potter" book that was published in China in 2000. In addition, the Shanghai International Film Festival will screen all installments of the "Harry Potter" film franchise.
Warner Bros. also announced that Christopher Nolan's "Interstellar," a sci-fi favorite by Chinese movie fans originally released in 2014, will be re-released on Aug. 2. Nolan's new tentpole blockbuster-to-be "Tenet" has not set any dates, but there is the possibility for it to open in China earlier than other places as the market gradually recovers. Last week, Warner Bros. took "Tenet" off its Aug. 12 release date for the North American market and said that the film would get a staggered release globally, rather than waiting for all markets to reopen.
Both the Harry Potter film and "Interstellar" are more than two hours each, which means that the 2-hour limit imposed on screening time, as suggested in a cinema reopening guideline issued by the Chinese Film Circulation and Projection Association, will be loosened.
Disney/Pixar's "Coco" was re-released on the first day Chinese cinemas reopened, July 20, and it has been steady in terms of the box office revenue. The 2017 animated feature raked in 1.2 billion yuan in China that year. Disney re-released "Zootopia," the highest-grossing foreign animated film in China with a total of 1.53 billion yuan, on July 24 and will re-release "Big Hero 6" on July 31.
But when it comes to Walt Disney Studios' most-anticipated new film "Mulan," the release date is still a mystery. On Thursday, Disney took "Mulan" off the theatrical release calendar for North America amid the ongoing pandemic. The adventure epic, directed by Niki Caro, was set to hit American theaters on Aug. 21.
"Mulan" was among numerous changes made to Disney's release calendar. All of its upcoming "Avatar" and new "Star Wars" films are being delayed by a year.
The future re-releases from Hollywood in China will also include James Cameron's "Titanic" and Christopher Nolan's "Inception." There is also news that "Avengers" movies, the "Lord of the Rings" trilogy and several Oscar-winning or Oscar-nominated movies, such as "Little Women" and "Marriage Story," are on the potential China release list.
China reopened its cinemas in low-risk areas on July 20, except for Beijing. The Chinese capital reopened its cinemas on July 24 due to its pandemic control situation. In addition, due to new cases in Xinjiang Uygur autonomous region and Dalian, Liaoning province, cinemas closed down once again in these regions. According to Sunday's statistics by Lighthouse, a box office tracking app, 47.5% of Chinese cinemas have resumed work.