A charity executive has told China.org.cn of the experience of fighting the COVID-19 pandemic in Los Angeles with his co-founder Prince Jackson.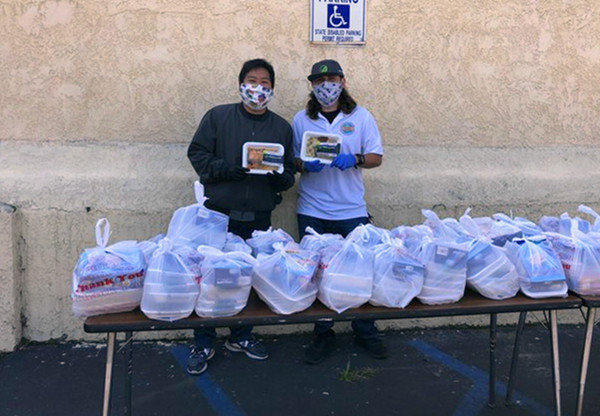 Prince Jackson and John Muto pose for photo on April 1, 2020, wearing face masks while spending nearly two hours at the Gospel Mission Baptist Church in South Los Angeles. The two, who created the Heal Los Angeles Foundation, show they are supporting the battle against the COVID-19 pandemic by handing out specially-prepared meals to some of Los Angeles' most underprivileged residents. [Photo courtesy of Heal LA]
As the pandemic is a growing concern in the city, John Muto, executive director of the Heal Los Angeles Foundation (Heal LA), and his colleague and former alumnus have been working hard since March to help local people by providing them with free meals.
"It was clear to Prince and I that due to COVID-19, there were many families and individuals that were going to get hit. A lot of people were going to lose their jobs or not make as much money as expected this year. Additionally, our school systems were providing grab-and-go meals for students, but we saw that the meals weren't really proper ones, and we wanted to provide our local families with an actual meal," Muto said, explaining how the idea emerged.
Loyola Marymount University (LMU) graduate Prince Jackson, oldest son of the late pop megastar Michael Jackson, had a contact that knew someone at Fresh N' Lean, a fast-growing, organic food delivery company. Once it understood the needs, the company was totally on board on supporting Heal LA cause.
Muto and Jackson initially managed to hand out meals to those in need outside the Gospel Mission Baptist Church with the help of church staff. Then they turned the aid plan into a long-term program covering every day during the pandemic. They also partnered with Yamashiro Hollywood to give away Bento Boxes as well as hiring a food delivery company able to deliver food to the hospitals for the medical staff.
In an interview with TV show Entertainment Tonight, Prince Jackson opened up about how he's giving back to society amid the coronavirus pandemic, and the charitable spirit instilled in him by his dad.
"I would like to think that my dad would be very proud, because I think this was one of his main goals -- not only to spread his message of positivity and happiness, but to see it enacted in his kids," he said. "I had a lot of unique experiences growing up, and what I'm trying to do with my platform and the non-profit or the charity organization is to share those experiences."
Muto told China.org.cn that when he first heard about the coronavirus, it was not seen as a big deal. So, no one including himself thought it was anything to worry about. However, he soon realized the danger and started praying for China. Later, when he went out to undertake the charity work, he understood, "Safety is the number one priority. We made sure everyone had gloves, masks, and social distancing at all times."
California governor Gavin Newsom issued the stay-at-home order on March 19 to slow the spread of the outbreak. As case numbers continue to rise, there are currently 524,722 confirmed cases to date and 9,703 deaths, according to an announcement of the California Department of Public Health on Wednesday.
The pandemic has certainly affected Muto's daily life, but he said a life of isolation for him is really no problem since he really doesn't go out a lot. "What was a struggle was seeing grocery stores not having basic essentials like toilet paper, paper towels, soap and other cleaning supplies."
Muto still lives with his parents who both are aged over 60. Hence, his most frequent worry is if he brings the virus back home to his parents and older brother. "The basic policies that we have to follow are to wash out hands, wear a mask, and social distancing. I believe doing those three basic things, you are doing your part in society of protecting this world!"
However, COVID-19 is one thing, social turbulence is the other. Since the outbreak, there are some in the world trying to blame Chinese and China for the virus, and this has led to acts of racism and discrimination. Muto, as someone of Asian descendant, said there should be no room at all for racism or discrimination no matter what situation.
"I've been lucky to not experience any racism or discrimination during this pandemic. I am sorry that China and Chinese people had to deal with any racism or discrimination during these times -- it's simply unacceptable!" he said.
The racism also led to the shocking death of George Floyd, which also inflamed protests everywhere in the U.S. and many countries in the world later on during the pandemic. "I feel numb and filled with sorrow. What has happened to George Floyd is incredibly sad and no words to explain how I really feel. All lives don't matter until Black Lives Matter," the young man sighed.
According to him, Heal LA is looking to provide programming for families and youths in vulnerable communities in the city. Last year, Heal LA was officially turned from a university student organization into a nonprofit one no longer affiliated with LMU, even though Muto and Jackson graduated from there.
The foundation's mission is to raise the quality of life for inner-city youth of Los Angeles by furnishing access to co-curricular educational initiatives that will emphasize the value of an active, healthy lifestyle, and provide the tools needed to earn an education. It had held a debut Thriller Night Halloween Party, inviting sponsors and guests from America, China, Brazil and Europe to get together, raising funds for various future programs.
However, the sudden pandemic impacted on their plans. For example, this Spring semester they were looking to launch cooking classes at Loreta Elementary School, but due to COVID-19 they couldn't do so. They also decided not to hold the annual Halloween party this year.
"COVID-19 also has affected a lot of our fun events that we had planned out for the remaining of the year. Nothing is cancelled, but the way everything is looking it most likely will be cancelled. You always have to find the positive in any situation and Prince and I agreed that this pandemic has made us think critically about online fundraising and virtual events in the future," he said.
John Muto fondly remembered when he met Prince Jackson at LMU during his sophomore year when Jackson was a freshman. "I went up to him and told him about my initial idea of Heal LA. He told me that I needed something in writing so he could read it and I went back to my dorm and typed away of the plan. I gave him the laid-out paperwork and about a month later I got a text from him stating that he wanted to make Heal LA an official student service organization at LMU. The rest is history!"
He continued to find inspiration for himself during the world crisis, for him to work harder to give something back to the society. "This year has been tough for everyone. When I do feel sad and confused on what everything has gone on this year, I think about Mister Rogers and Michael Jackson.
"I always asked myself, what would they do in these times? The more I think about it, it's not a question that you can answer. In fact, the question you must ask yourself is 'what will you do during these times?' I am hoping that I am making a difference in people's lives. I want to be that person that always brings good news and positivity," he said.