Five cinematographers have shared how they went to Wuhan to record the reality of the city's COVID-19 outbreak at its height amid fear for their lives.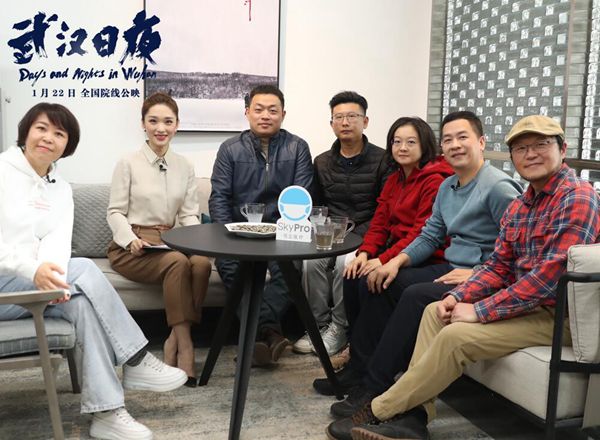 Set in the central Chinese city, once ravaged by the epidemic, the documentary film "Days and Nights in Wuhan" builds its storyline around the lives of ordinary people, including patients, medical personnel, volunteers and residents, as the virus spread through the city last year.
Jan. 10, 2021 is the day when the five cinematographers - Chen Zhuo, Tan Haiyan, Chen Liang, Qiu Lei and Tang Xiaozhou - met each other for the first time at the director's cutting room, which could be unthinkable for other films.
One scene still lingers in Chen Zhuo's mind: a patient clenching the doctor's hand. "When I heard the doctor tell the patient, 'as your family is not around, I am your family,' my tears were streaming down," he said, pointing out that it was the very statement by the doctor that sustained him to film the whole story in the belief it could bring comfort to families unable to be with their isolated sick family members amid the pandemic.
The cinematographers revealed that many of their shots were taken with tears in their eyes, with the belief that "even if we can't really save lives, we must record these with our heart. This is our mission."
They can still clearly remember the heart-stopping and dramatic moments they encountered many times during the shooting process -- from protective suits accidentally torn to the time when there was no time to follow up with full protection measures when an emergency occurred.
They confessed that they thought a lot before going to wards and the ICU rooms to film amid worries and fears; however, when they were really on the front line, all their worries were left behind.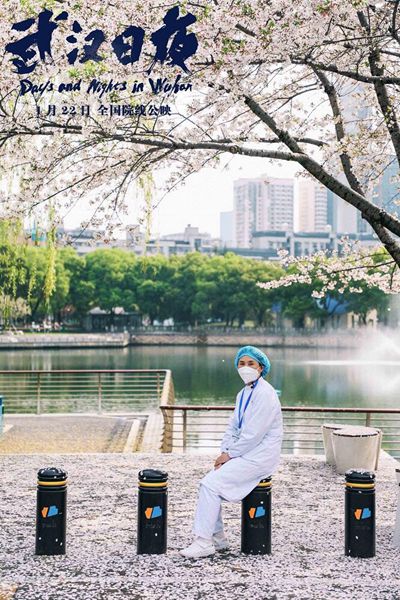 Actually, there are a total of 31 cinematographers working on "Days and Nights in Wuhan." Director Cao Jinling and her editing team worked tirelessly to go through and edit more than 1,000 hours of materials shot by them at risk of their lives.
"Though we can't communicate with cinematographers normally this time as we did other films, we can still feel the magical tacit understanding with each other," Cao said, confessing that she would think about every shot and what cinematographers meant to express as they edited the film.
Cinematographer Tan Haiyan, who has watched the final cut of "Days and Nights in Wuhan" three times, said emotionally that the director understood her intentions. "'This is the work by so many of us. In the film, the audience can see how Wuhan people endured and survived the disaster. We can never forget that."
However, as the film's final cut is 95 minutes, many precious moments and scenes still had to be painfully left out.
The completion of the documentary film is not only a memorial and commemoration of the 76 lockdown days in Wuhan, but also has extraordinary significance for Chinese people now and in the future, the director said. She remembered that a family member of a patient once said that the cinematographers' lens allowed him to stay with his wife in a virtual way, so that he was able to speak the words that he couldn't say to her at that time.
"These powers transmitted in adversity are far more meaningful beyond the recording itself. This is what distinguishes 'Days and Nights in Wuhan' from other documentaries. It makes family love and companionship concrete, and makes the helpless hearts strong and warm," Cao said.
Chen Zhuo received a letter and a bunch of sunflowers from his wife on Sunday when he sat in the cutting room with the director and other fellow cinematographers. "You chose to stick to your beliefs like the heroes you admire; record everything truthfully, and stay true to your heart..." her letter read.
In tears, Chen and these cinematographers shared one thing in common: the supportive families behind them when they went to the frontline, who delivered great comforts and inspired them to act.
More than 220 filmmakers, actors and celebrities, from Jackie Chan, Zhou Xun to Jackson Yee, have agreed to help promote "Days and Nights in Wuhan" nationwide. China Movie Channel will work with them and local theaters around China to organize more than 300 charity screenings of the film.
China's first anti-pandemic documentary film will hit theaters on Jan. 22.