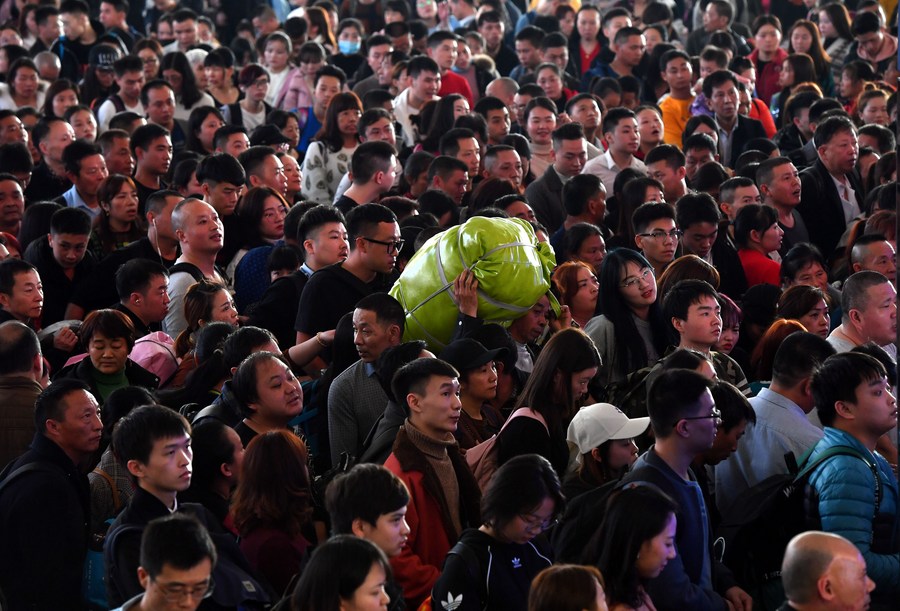 People wait for ticket checks at Guangzhou South Railway Station during the Spring Festival travel rush in Guangzhou, south China's Guangdong Province, Jan. 16, 2019. [Photo/Xinhua]
More people are considering not returning to their hometowns for the upcoming Spring Festival holiday in response to appeals to avoid cross-regional travel as the COVID-19 pandemic rebounds.
Recently, a number of confirmed cases and cluster of outbreaks emerged in some areas of China. As a result, the upcoming travel rush during the Spring Festival will further burden the prevention and control of the epidemic.
About 30 local governments have proposed migrant workers should celebrate the lunar New Year in the city of their workplace or current residence to help prevent the spread of the disease. Beijing is one of the places to take the initiative first.
"My company urges employees to stay on site, but it is not a must," said Liu Muzhen, who works at a public institution in Beijing. He planned not to return to his hometown of Xingtai, north China's Hebei province, during the upcoming Spring Festival holiday.
Up to Jan.18, Hebei province has 800 confirmed cases, according to the data from the National Health Commission. Deng Suxue, deputy mayor of Xingtai, said the turning point had not yet arrived at the local level.
Liu said, "I have some classmates who study or work in Beijing. If they don't go back, we will celebrate the Spring Festival together."
Many local authorities have encouraged companies to offer better benefits to employees who choose to stay put, such as adopting staggered holiday schedules, providing subsidies and improving dining conditions.
A company in Ruian, east China's Zhejiang province, promised that each employee staying in the city for the Spring festival would receive 1,000 yuan. When the pandemic stabilizes, the company will cover the transportation fee for their employees for family reunion and give them a paid leave for one week, according to CCTV.
Tan Yuru, who works for an information technology company in Hangzhou High-tech Zone (Binjiang), Zhejiang province, decided to stay in Hangzhou for the upcoming Spring Festival despite the absence of new confirmed cases of COVID-19 in his hometown in east China's Jiangsu province.
"I made this decision after learning about the policy of my workplace and hometown. Returning later will have just as much significance. My parents can understand and they are supportive," Tan said.
According to Xinhua news agency, the Jingxian county government of Anhui province has suggested that migrant workers can visit any national 3A-level tourist attraction and above for free during the Spring Festival holiday. Some sports venues, cultural centers and museums are also on the list.
Wang Tong, a new mother who works in Shenzhen, said she had no choice but to pick up her baby under one year old in her hometown Chifeng, Inner Mongolia and bring it to Shenzhen. "We will start self-isolation at home when we get back. Everyone should make efforts in keeping the virus at bay," Wang added.
Medical experts have announced various risk warnings. Zhang Boli, a scholar at the Chinese Academy of Engineering, said the cold season was very suitable for the survival of the virus, and he hoped that people would not gather during the Spring Festival or travel except in special circumstances.
Seven central government departments will launch a series of operations to guarantee migrant workers' welfare and enterprises' production.