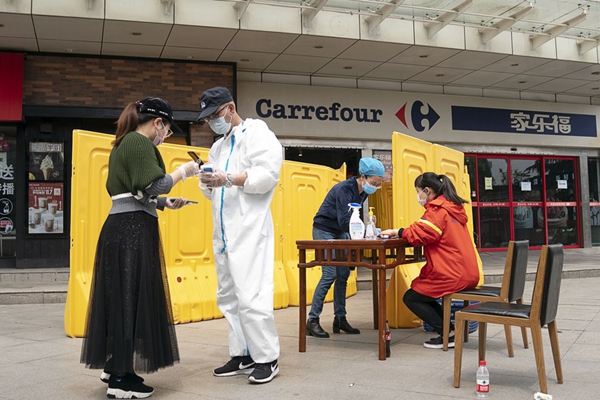 People display their electronic health code and take personal information registration before entering into a supermarket in Wuhan, central China's Hubei province, March 24, 2020. [Photo/Xinhua]
In recent days, health authorities of many Chinese cities have adopted a new rule that requires them to only include geographic information and not personally identifiable information when disclosing updates about COVID-19 cases. This new rule will better protect individual privacy while continuing to keep the public informed.
This change to public disclosures is widely supported by the public. Previously, for contact-tracing purposes, health authorities would often share detailed patient information, including their surname, age, gender, occupation, place of residence, and daily travel history.
Although data masking was applied, the previous information release method led to excessive personal information disclosure and even some cases of discrimination and cyberbullying against COVID-19 patients.
Starting from Jan. 23, the Shanghai Health Authority opted to only share information about public places where COVID-19 patients had been to. The approach was subsequently followed in many other cities in China.
"It is very encouraging to see this change," Kong Qingjiang, dean of the School of International Law, China University of Political Science and Law, said in an interview with China.org.cn.
"Disclosing patient's travel history and other detailed information is meant to inform the public about the coronavirus risk they may face. At the same time, it encourages the public to take necessary restrictive measures to stem the spread."
"However, the government needed to establish a more appropriate balance between the protection of public health and individual rights," Kong said, adding that if epidemic prevention and control can be achieved without sacrificing the privacy of the individuals, it is certainly the best choice.
Wu Fan, vice dean of the Shanghai Medical College of Fudan University and a member of the Public Health Expert Team of Shanghai COVID-19 Epidemic Prevention and Control, said in an interview with state broadcaster China Central Television that previously, in view of the public's right to know, some local authorities opted to provide as much information as possible.
After changing how such information is disclosed, Wu said that the authorities are now not only transparent with the public, but also able to protect the privacy of patients. "After a year of epidemic prevention and control, the public has become more rational and more accepting of this kind of information disclosure."
One blogger on Sina Weibo, China's largest microblogging platform, said that "this kind of reporting is efficient and helps allay worries of information leaks when providing personal information for epidemic control purposes. Ultimately, it helps protect patients from additional pain."
Balancing privacy and transparency has posed a serious challenge amid COVID-19. Last February, the Cyberspace Administration of China released guidelines to emphasize the protection of relevant personal data.
The guidelines clearly state that personal information such as names, age, ID, telephone numbers and household addresses may not be used for purposes other than "epidemic control and disease prevention."
According to Kong Qingjiang, China's Civil Code, that came into effect on Jan. 1, 2021, can also provide legal protection for people's privacy and personal information, as stipulated in Part Four: "Personality Rights."
Kong also noted that the public should be informed to the greatest extent to take appropriate personal prevention and control measures, but at the same time the adverse impact on personal privacy should be minimized.