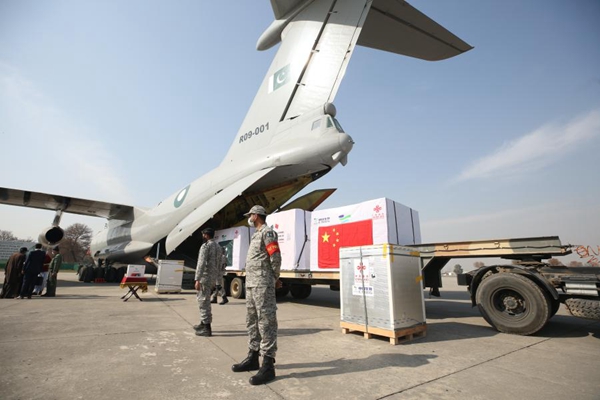 A handover ceremony of a batch of China-donated COVID-19 vaccine is held at Noor Khan Air Base near Islamabad, Pakistan, Feb. 1, 2021. [Photo/Xinhua]
Amid once-in-a-century transformations intermingled with the COVID-19 pandemic, the international community is once again reflecting on the questions: What has happened to the world and how we should respond. China's vision of "building a community with a shared future for mankind" answers these questions of our times, as it meets people's aspiration for peace and development and builds the broadest common ground among the fundamental interests of all countries.

The COVID-19 pandemic is compounding the momentous changes occurring globally. The world today is moving toward greater multi-polarity, economic globalization and cultural diversity, and is becoming increasingly information-oriented. New technology and industrial transformations have increased interconnectedness and interdependence, closely bonding human society at an unprecedented level. Meanwhile, underlying global problems have surfaced amid growing uncertainties and destabilizing factors. No country can stay immune from these challenges.
The international community has reached a crossroads; and we are facing a choice between a beggar-thy-neighbor approach and coming together in solidarity, between a closed-door policy and opening-up for mutual benefit, and between unilateralism and multilateralism.
The COVID-19 pandemic has made us keenly aware how closely interwoven are the interests of all countries, and that humanity shares a common stake. Indeed, our world is an indivisible community with a shared future. Countries need to abandon any ideological prejudice they may harbor, act outside one's own narrow interests, and work closely together. Only in this way can we jointly tide over difficulties.
As a responsible country with a global perspective, China has been integrating its own development into the overall development of the world. At a crucial time, when the country itself was hard hit by the COVID-19 virus and the world jointly braved challenges, China upheld the vision of a global community with a shared future with concrete action, demonstrating its sense of responsibility as a major country.
China has shared information and experience with the international community in a timely manner, done its best to assist countries and regions less well prepared for the pandemic, and honored its commitment to making Chinese vaccines a global public good. With these efforts, China has made a significant contribution to the global fight against COVID-19.
In response to a severe global economic recession, China has played its role well as the largest supplier of global anti-pandemic materials and made all-out efforts to keep the global industrial and supply chains stable. Committed to opening wider to the world, China has signed the Regional Comprehensive Economic Partnership (RCEP) agreement as one of 15 participating countries and worked with the EU to complete investment agreement negotiations as scheduled. It has also assisted other countries in their battle against the virus and to achieve economic recovery.

At the same time, China is fostering a new development paradigm with domestic circulation as the mainstay and domestic and international circulations reinforcing each other. China will fully leverage the demand of its super-sized domestic market to inject continuous impetus to the world economy.
Faced with setbacks in the process of global governance, China will continue to work with the international community to safeguard the international system focused on the United Nations, an international order based on international law, and a multilateral trading system based on the WTO; to promote a new type of international relationship and push for an economic globalization that is more open, inclusive, balanced and beneficial to all.
Confronted with historic changes of the times, the international community can understand more than ever the significance of a community with a shared future for mankind. China is determined as ever to build world peace, contribute to global prosperity, uphold the international order, and work together with all other countries to create a better future for humanity.
Dr. Zhou Luming is editor of Qiushi Journal. His research interests include China's diplomacy and international relations.
Translated by Zhang Liying.
Opinion articles reflect the views of their authors, not necessarily those of China.org.cn.
If you would like to contribute, please contact us at opinion@china.org.cn.