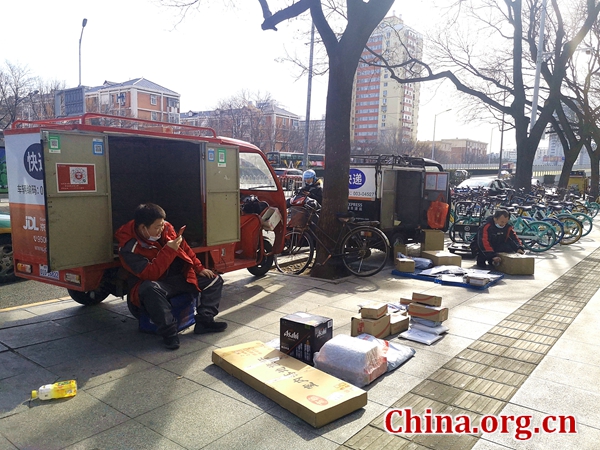 Couriers and piles of parcels on a street in Beijing, Feb. 18, 2021. [Photo by Wang Yiming/China.org.cn]
During China's recent week-long Spring Festival holiday, more than 660 million express deliveries were handled nationwide, up by 260% over the same period last year, according to data from the State Post Bureau released Thursday.
Delivery orders during the festival surged this year as people stayed put to celebrate the holiday rather than return to their hometowns or take vacations due to the COVID-19 crisis.
Figures from the State Post Bureau show that total parcel collections ballooned to almost three times that of last year, while the volume of deliveries rose by three to four times. In central China, which experienced the fastest year-on-year growth, collections and deliveries surged by 359% and 260%, respectively.
"The majority of deliveries during the holiday were food, agricultural specialties, and gifts between relatives and friends, which reflects the vitality of online consumption in China," said Wang Feng, director of the safety supervision center under the State Post Bureau.
China's major courier services companies, such as EMS, SF Express and JD Logistics, offered uninterrupted services throughout the holiday to ensure that the majority of customers could go on receiving parcels during the Spring Festival.
The State Post Bureau reportedly arranged for over one million couriers to remain at their posts, and ordered delivery firms to reward employees working during the holiday.
A courier surnamed Jia, who works for JD Logistics, told China.org.cn that he remained in Beijing to work over the holiday instead of returning to his home in the neighboring province of Hebei, the center of an uptick in coronavirus cases just before the holiday.
During the seven-day festival, Jia personally delivered over 100 parcels daily. "The company offered triple pay for the official holiday from Feb. 12 to 14, and double pay for the other four days," he added.
In previous years, Jia would always return to his hometown to celebrate the holiday. "I didn't go back this year due to concerns over the coronavirus," Jia said. "I responded to the call to stay put, and so did my colleagues."