Two phenomenal tentpole films soared into the top five ranks of all time on the Chinese box office chart, but filmmakers are still worried about the future.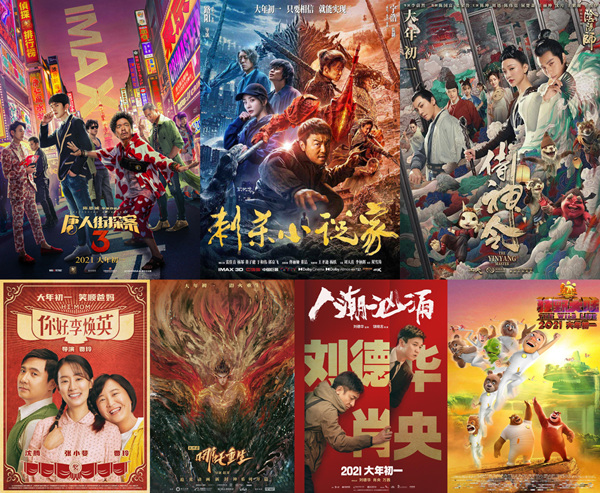 A combination of posters for seven Chinese blockbusters released in time for Spring Festival 2021, including "Detective Chinatown 3," "A Writer's Odyssey," "The Yinyang Masterr," "Hi, Mom," "New Gods: Nezha Reborn," "Endgame" and "Boonie Bears: The Wild Life." [Pictures courtesy of IMAX China, Huace Pictures, Huayi Brothers Media, Beijing Culture, Alibaba Pictures, Emperor Motion Pictures, and Fantawild]
Chen Sicheng's "Detective Chinatown 3," the latest installment in Wanda Pictures' well-received "Detective Chinatown" franchise, had grossed 4.32 billion yuan ($668.56 million) by Sunday night since its Spring Festival release, making it the fifth highest-grossing film ever in Chinese film history.
It surpassed the 4.25 billion yuan total generated in China by Hollywood juggernaut "Avengers: Endgame," according to box office tracking agency Beacon. The new statistics of "Detective Chinatown 3" means all top five spots of all time on the box office chart are occupied by Chinese domestic productions, a major milestone.
Its rival, comedy actress Jia Ling's tear-jerker directorial debut "Hi, Mom," also released during the Spring Festival 2021, took haul of 4.82 billion yuan and is currently sitting at the No. 3 on China's highest-grossing film chart.
The 2017 action-adventure film "Wolf Warrior 2" and the 2019 animated fantasy film "Ne Zha" are currently topping the chart with total revenue of 5.69 billion yuan and 5.03 billion yuan respectively. The 2019 sci-fi blockbuster "The Wandering Earth," which made 4.69 billion yuan, fell one spot to No. 4.
It is also very rare to have two tentpoles both grossing more than 4 billion yuan respectively during a certain holiday season, which also indicated moviegoers' extreme enthusiasm and the infinite potential of Chinese film market, already the biggest in the world.
For the whole of February, the mainland film market ended with a dazzling result of 12.26 billion yuan ($1.89 billion) in box office revenues. The monthly record also set the world's highest single month record in a single market. The new Chinese box office record is $500 million higher than the monthly record in North America ($1.39 billion for July 2011).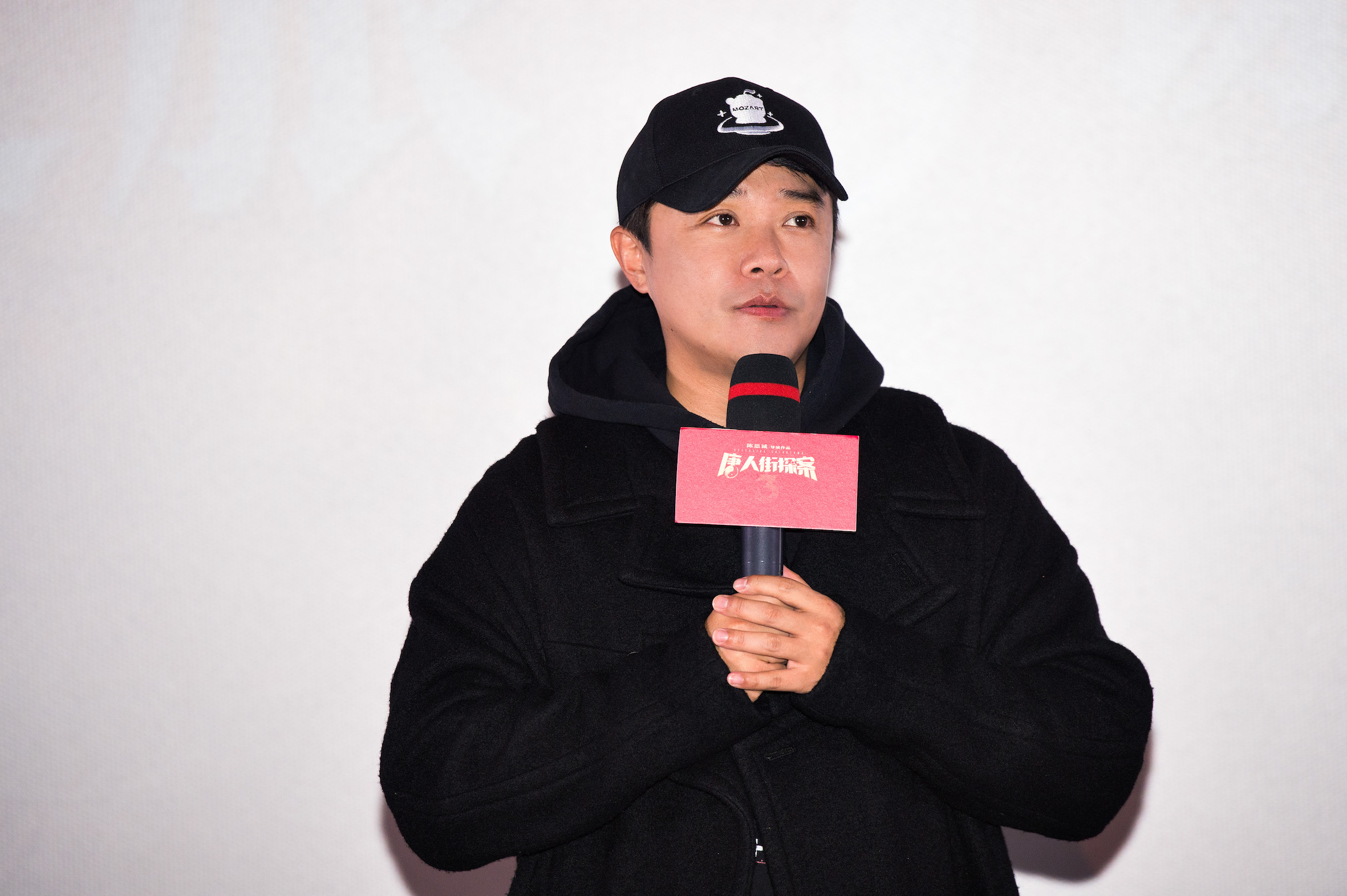 Director Chen Sicheng speaks and exchanges with the audience at a film event of "Detective Chinatown 3" held in Beijing, Feb. 22, 2021. [Photo courtesy of Dark Horse Marketing]
But director Chen Sicheng remains worried. At a film event held on Feb. 22, he asked the audience to lend more support to Chinese domestic films. "Everyone thinks the film business is making big money, but actually in the last year, many film companies went bankrupted. You don't really know about us and our struggles," he said.
He revealed that recently, a top Chinese special effects film company will soon be unable to survive, because the entire middle-level special effects staff have been poached by China's video game industry, as the game industry is indeed more profitable than movies. China.org.cn verified the statement was from Xu Jian, the founder of MORE VFX who supported "Detective Chinatown 3," "A Writer's Odyssey" and many other big Chinese blockbusters.
"In fact, the position of our entire film industry does not match the position of China's entire cultural economy, and does not match China's overall national strength. Everyone knows that the film industry is one of America's seven pillar industries. But China's film industry is still too elementary, and it does not match our overall economic status," Chen said. "It is not that our film industry is very strong, but it happens to be too weak. We need support, rather than attacks for various reasons."
The director said he and fellow filmmakers are always thinking about how to make Chinese film industry stronger. "No matter if we have done enough or been good enough, we have made films for letting more people in the world to know about China and our capabilities, and we never lost face in front of those foreign peers. We are generation of filmmakers who take our responsibilities to heart. Please support and encourage us to do more in the future."
Chen's concerns are backed by reason. Although "Detective Chinatown 3" and "Hi, Mom" are making big money during the Spring Festival, the busiest and most lucrative film season, the other films mostly are losing money. The third most popular film during Spring Festival was "A Writer's Odyssey," an imaginative and creative fantasy movie in the making for five years by Lu Yang, which grossed 895 million yuan by Sunday but is still a money-losing project against its budget.
"The Yinyang Master," a fantasy film adapted from the popular mobile game Onmyoji and in the making for four years, is a flop that had a sub-par performance, grossing only 256 million yuan so far compared to its big investment in visual effects. "The current situation of the film made me sleepless," director Li Weiran said in retrospect on his social media account on Feb. 21, "What have we done wrong? I'm afraid we have to wait for a while to see it clearly."
"Endgame," a Chinese comedy-drama adaptation of the Japanese cinema hit "Key of Life" (2012) by Kenji Uchida, also seemed to flop at the box office despite starring Hong Kong megastar Andy Lau and comedy actor Xiao Yang. It was once the worst-performing blockbuster during the Spring Festival. Its director Rao Xiaozhi, who previously directed comedy hit "A Cool Fish," took to social media during the holiday to say that other blockbusters had taken too much share of the market and left him with little. He even pleaded for more screening arrangements and for people to give the film a chance.
His appeal drew a response, and its rave reviews helped the film climb on the chart again after the holiday and has grossed 458 million yuan so far.
Zhao Ji's animated feature "New Gods: Nezha Reborn," took in a decent gross of 400 million yuan so far, but paled in comparison with the phenomenal animated film "Ne Zha" in 2019.
"One of my colleagues resigned after the holiday. He is very important for our next project. I told him, let's wait. If 'Nezha Reborn' does well, we can hang on. But he told me, he wanted to try something else, 'Dream can wait, but life can't'," Zhao said in a social media post on Feb. 21 to reflect the film's performance. "The harsh realities made many animators who had dreams switch to other industries and professions. Eventually, I have no reasons to persuade them to stay."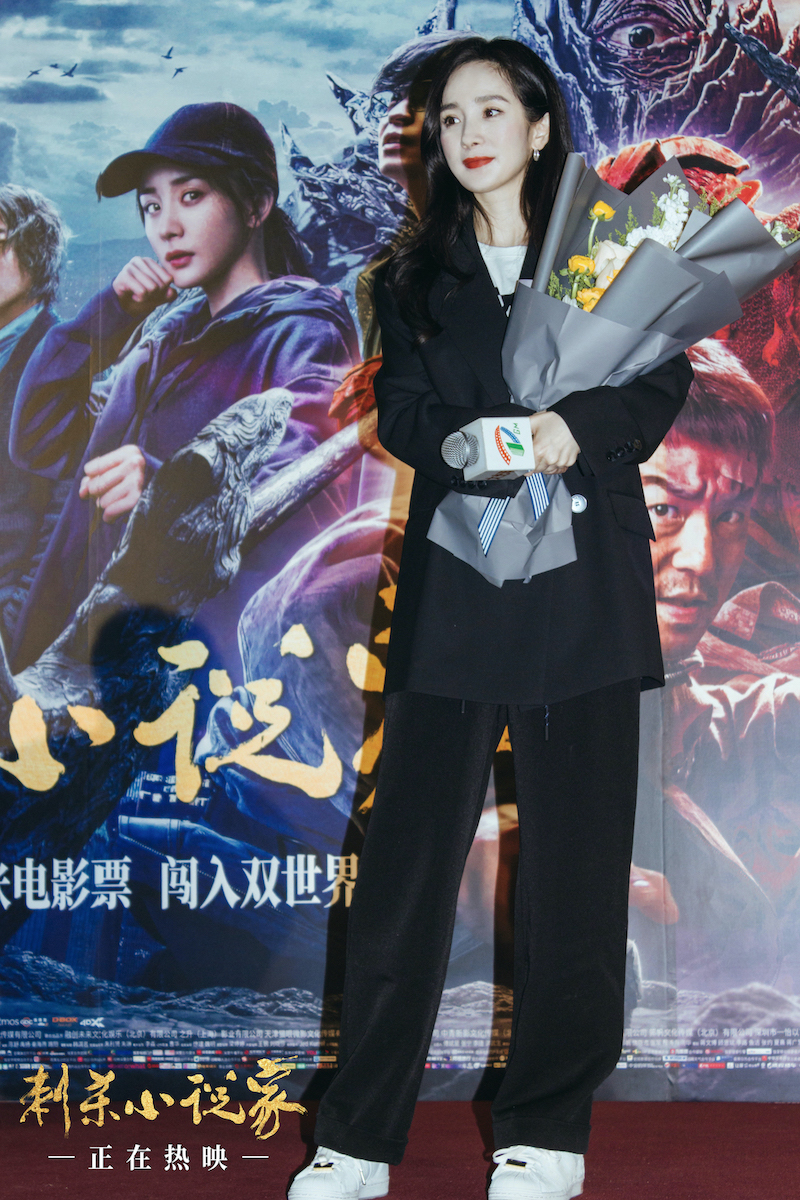 Actress Yang Mi holds a bunch of flowers at a film event of "A Writer's Odyssey" to greet the audience in Shanghai, Feb. 25, 2021. [Photo courtesy of Dark Horse Marketing]
With various elements from the audience taste changes to films' own qualities that affect their performances, the COVID-19 pandemic-hit film market faces other threats such as piracy.
On Feb. 26, in order to regulate the copyright order of the film market, the copyright administration of the Publicity Department of the CPC Central Committee, the China Film Administration, and the Ministry of Public Security jointly deployed a centralized action campaign to combat film pirates and dissemination of the Spring Festival theatrical releases, and adopted various effective measures to crack down on illegal and criminal acts.
The new amendment of China's Criminal Law that went into effect on March 1, 2021 stipulates the maximum sentence for copyright infringement will be raised to 10 years.