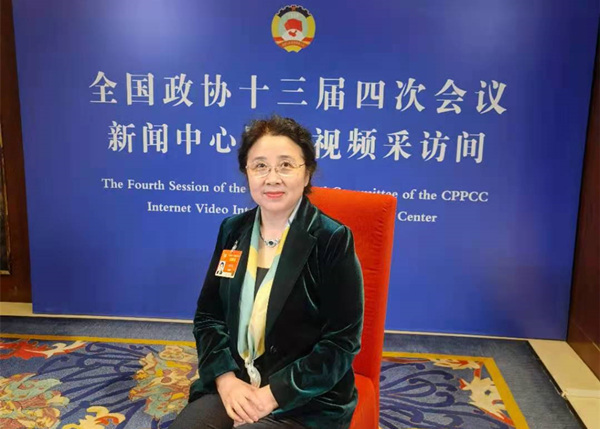 Feng Danlong, a member of the 13th National Committee of the Chinese People's Political Consultative Conference (CPPCC), poses for a photo at an interview booth in Beijing, March 4, 2021. [Photo courtesy of Feng Danlong]
A national political advisor has suggested that China should strengthen its grassroots vaccination teams.
Feng Danlong, a member of the 13th National Committee of the Chinese People's Political Consultative Conference (CPPCC) and a senior consultant for Pfizer China, suggested that the relevant national departments should strengthen China's grassroots vaccination teams.
Feng explained that this can be done through comprehensive measures, such as increasing the number of vaccinators, improving their capabilities, and raising their salaries.
Feng said that vaccination is one of the country's basic public health service programs. Therefore, the number and skills of vaccinators will directly affect the quality of China's vaccination services, affect the results of whether it can effectively prevent and control the spread of infectious diseases, and affect people's sense of gain and satisfaction concerning national public health services.
However, the immunization sector in China still has problems, such as insufficient resources and staff, low salaries, an urgent need for improvements in professionalism, and a loss of personnel.
In recent years, as more vaccines were administered in China, especially now with new vaccines being given to fight COVID-19, an increased pressure has been placed on vaccination services.
According to statistics cited by Feng, the average number of vaccinators per every 10,000 people in China was 1.7 in 2019, which apparently, met the official rule set in 2004, requiring at least one vaccinator being available for every 10,000 people. "But this can't meet the actual needs, as from 2004 to 2007, the variety of vaccines included in the national immunization program increased from five to 14, and the number has stayed unchanged since then. The vaccination workload has increased three-fold, but the staffing standard has not be adjusted, and the number of vaccinators has been decreasing year by year," she warned.
For instance, 5.58 million doses of vaccines outside the national immunization program were administrated in Shanghai in 2020, 1.75 million doses more than the number of vaccines defined in the immunization program.
In her proposal, Feng cited a survey conducted by Shandong University in 2017. It showed that in Beijing, the provinces of Guangdong, Hubei, Jilin and Yunnan, as well as in Xinjiang Uygur Autonomous Region, 33.33% of vaccinators only had secondary vocational school diplomas or lower, while 65.94% just held an elementary professional title or no title at all.
The survey also found that 54.35% of vaccinators had an average monthly income of 3,000 yuan ($460.97) or less — much lower than the income for staff at public hospitals in the same area.
The political advisor added that currently, although vaccination personnel needs to pass professional training programs and various assessments before taking up their posts, there is still a lack of systematic training and development plan to meet both current and future needs. "The work incentive mechanism for vaccination personnel needs to be improved, and the promotion channel for professional titles also needs to be improved," Feng stated.
Feng elaborated in her proposal that the relevant government authorities should conduct research and surveys as soon as possible, revise the standards for vaccination staffing based on the actual situation, and consider expanding the number of vaccination staff so that vaccinators can take on a suitable workload, and the quality of China's vaccination services can be further improved.
Finally, Feng appealed to the National Health Commission and the Chinese Center for Disease Control and Prevention that China should actively promote and strengthen digitization and IT application in vaccination work, adopt measures to improve the professionalism of current vaccinators, promote the welfare of vaccinators, and attract more professionals to engage in vaccination work.