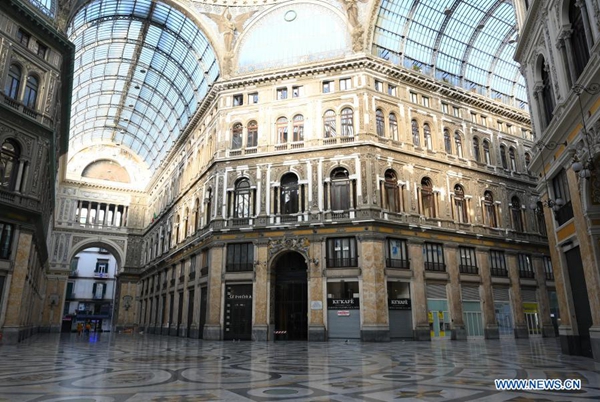 Galleria Umberto is closed due to the coronavirus pandemic in Naples, Italy, Nov. 22, 2020. [Photo/Xinhua]
Italy's Ministry of Health reported on Thursday that a further 423 patients have died of the coronavirus, pushing the accumulative COVID-19 death toll to 103,855 since the pandemic first officially started in the country in late February 2020.
Also on Thursday, the Ministry of Health reported that 24,935 new coronavirus infections had been detected, bringing the country's total active infections to 547,510.
The ministry also reported that 15,976 COVID-19 patients have recovered, pushing the overall recoveries since the start of the pandemic to 2,655,346.
In its weekly monitoring report referred to the week of March 1-7, the Ministry of Health reported that "for the sixth consecutive week we have recorded...an acceleration in the incidence (of transmission) at the national level."
"We observe a significant increase in the number of people hospitalized in intensive care, with a rate of occupancy that has pushed past the critical threshold on a national level," the report warned.
On the vaccination front, over 7.2 million people in Italy had been inoculated since a nationwide vaccination campaign kicked off in late December 2020. Of these, more than 2.2 million people had received both shots, the Ministry of Health reported Thursday.
The European Medicines Agency (EMA) confirmed on Thursday that the AstraZeneca vaccine is safe to use. The statement came after many European countries suspended the use of AstraZeneca as a precautionary measure, based on reports of blood clots in persons who had received the vaccine.
The benefits of the AstraZeneca vaccine "in combating the still widespread threat of COVID-19 (which itself results in clotting problems and may be fatal) continue to outweigh the risk of side effects," EMA said in the statement.
As the world is struggling to contain the pandemic, vaccination is underway in an increasing number of countries with already-authorized coronavirus vaccines.
Meanwhile, 264 candidate vaccines are still being developed worldwide -- 82 of them in clinical trials -- in countries including Germany, China, Russia, Britain, and the United States, according to information released by the World Health Organization on March 16.