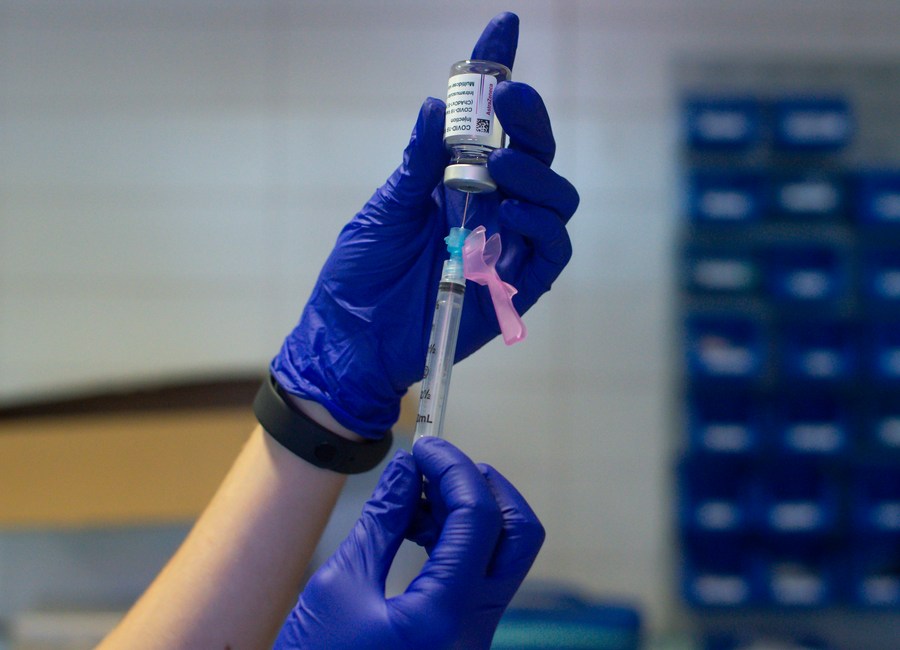 Photo taken on March 12, 2021 shows an Oxford-AstraZenecavaccine at a hospital in Caceres province in Spain. [Photo/Xinhua]
Over the past week, the AstraZeneca vaccine rollout has been plunged into chaos as a growing number of countries, most prominently in Europe, have suspended usage owing to concerns over a small proportion of side effects leaving them vulnerable if there is a third wave of the pandemic.

This nonetheless reveals the flaws of depending on a single vaccine, whilst also showing the pitfalls of what has been dubbed "vaccine nationalism" with some countries relying on one particular vaccine, limiting its export and competing with other countries. If anything, this strategy has been disastrous, and countries willing to defy this trend have come out better off.
This shows the need for the world to work together and ultimately open up in terms of vaccine cooperation and distribution.
The AstraZeneca crisis, irrespective of what may or may not be wrong with it, has ultimately been compounded by the phenomenon of vaccine nationalism, which has been destructive in hobbling the European Union's vaccine rollout.
This has also hurt other places, as some Western countries have bought up excessive number of doses, thus denying them to others. The disastrous move has essentially created an "every nation for itself" attitude and multilateralism has been scorned in the bid to serve narrow national interests.
Facing the common enemy of COVID-19 worldwide, there needs to be less competition, and more cooperation, especially when it comes to the vaccines offering us more chance to defeat the pandemic.
These forms of vaccine cooperation should not be written off as "vaccine diplomacy" or "influence" activities, but a necessary act of multilateralism and interdependence to deal with the COVID-19 crisis.
China's own vaccination drive is a herculean task given it is the world's most populous country. Only 62 million out of 1.4 billion of its population have benefited so far, yet it has not gone to the extent of completely disregarding others, instead delivering millions of vaccines around the world.
Vaccine nationalism will not eliminate the pandemic, but only lead to more tragedies. The current crisis in Europe requires cooperation, good will and openness. COVID-19 is a global challenge which all countries must work together to overcome, and not an "every man for himself" panic.
Tom Fowdy is a British political and international relations analyst and a graduate of Durham and Oxford universities. He writes on topics pertaining to China, the DPRK, Britain and the U.S. For more information please visit:
http://www.china.org.cn/opinion/TomFowdy.htm
Opinion articles reflect the views of their authors, not necessarily those of China.org.cn.
If you would like to contribute, please contact us at opinion@china.org.cn.