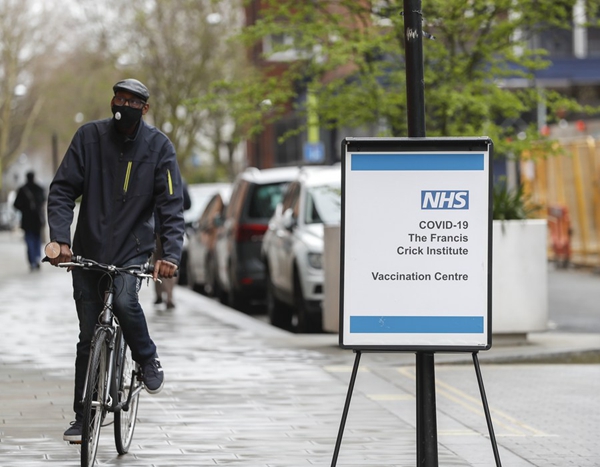 A man wearing a face mask cycles past the Francis Crick Institute Vaccination Center in London, Britain on March 18, 2021. [Photo/Xinhua]
Another 6,397 people in Britain have tested positive for COVID-19, bringing the total number of coronavirus cases in the country to 4,319,128, according to official figures released Thursday.
The country also reported another 63 coronavirus-related deaths. The total number of coronavirus-related deaths in Britain now stands at 126,445. These figures only include the deaths of people who died within 28 days of their first positive test.
Nearly 29 million people in Britain have been given the first jab of the coronavirus vaccine, according to the latest official figures.
Also on Thursday, British lawmakers voted to extend the government's emergency COVID-19 legislation for another six months.
The 2020 Coronavirus Act was passed by 484 votes to 76 with a majority of 408, paving the way for British Prime Minister Boris Johnson's "roadmap" out of lockdown.
On Feb. 22, Johnson announced his long-anticipated "roadmap" exiting the lockdown, the third of its kind since the start of the pandemic. The March 8 reopening of schools was first part of the four-step plan which is expected to see all legal restrictions in England being removed by mid-June.
Also on Thursday, National Health Service (NHS) England Chief Executive Simon Stevens recommended lowering the COVID emergency alert level due to reduced pressures on the health service.
Because of "much reduced acute pressures on the health service", Stevens said he recommended "that we reduce the national alert level across the health service from level four to level three and that would take effect today".
The reduced hospital admissions are due to "both declining infection rates across the community and the impact that's now being felt from the vaccination programme", said Stevens.
Experts have warned Britain is "still not out of the woods" amid concerns over new variants and the risks of the public breaching restriction rules.
To bring life back to normal, countries such as Britain, China, Russia, the United States as well as the European Union have been racing against time to roll out coronavirus vaccines.