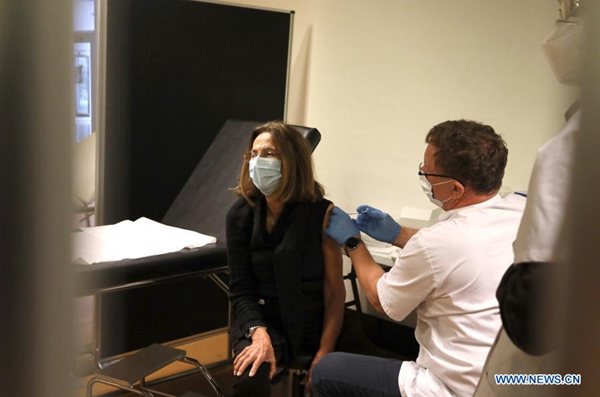 A woman receives a COVID-19 vaccine at the Palais des Festivals in Cannes, southern France, on Jan. 9, 2021. [Photo/Xinhua]
The number of COVID-19 patients in intensive care units (ICUs) in France rose to 4,872, compared with 4,791 the previous day, according to data released by the Health Ministry on Sunday.
The figure, which has been on the rise since January, now stands close to the peak of the second epidemic wave, which saw 4,903 patients in need of life support on Nov. 16.
The overall number of hospitalized COVID-19 patients went up by 453 to 27,712.
In the past 24 hours, 37,014 new infections were recorded, bringing the accumulative total to 4,545,589, while the death toll reached 94,596, up by 131 from the previous day.
As of Sunday, 7,792,945 people in France have received at least one shot of a coronavirus vaccine, representing 11.6 percent of the total population and 14.8 percent of the adult population, said the ministry.