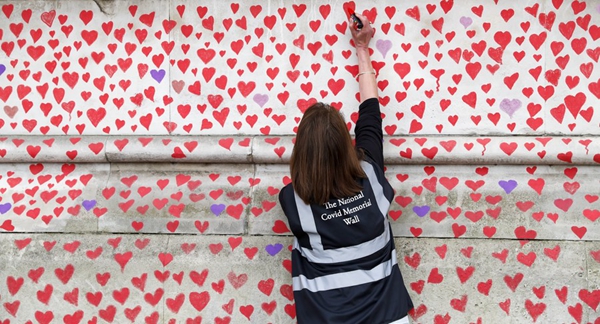 A volunteer paints red hearts representing the victims who died of COVID-19 on the National COVID Memorial Wall outside St Thomas' Hospital in London, Britain, on March 31, 2021. [Photo/Xinhua]
Another 2,379 people in Britain have tested positive for COVID-19, bringing the total number of coronavirus cases in the country to 4,364,529, according to official figures released Tuesday.
The country also reported another 20 coronavirus-related deaths. The total number of coronavirus-related deaths in Britain now stands at 126,882. These figures only include the deaths of people who died within 28 days of their first positive test.
Over the last week, there have been 212 deaths within 28 days of a positive coronavirus test. This shows a decrease of 45.2 percent compared to the previous seven days.
One death was recorded in London according to the Public Health England dashboard.
Last Tuesday, 4,040 people tested positive and 56 deaths were reported.
More than 31.6 million people have been given the first jab of the coronavirus vaccine, according to the official figures.
Earlier Tuesday, British Prime Minister Boris Johnson said during a visit to AstraZeneca's Macclesfield factory that Britain should continue rolling out the AstraZeneca vaccine despite concerns about occasionally reported cases of blood clots.
Johnson said the current advice of Medicines and Healthcare products Regulatory Agency (MHRA), Britain's medicines regulator, is to "keep going out there, get your jab, get your second jab" and "we need to keep that going".
The vaccines are already "starting to have a beneficial effect on the trajectory of the disease", said Johnson, noting the falling number of cases and deaths in the country.
Johnson on Monday confirmed that from April 12, non-essential shops will reopen and pubs and restaurants will reopen outdoors as Britain moves to step two of the roadmap out of the COVID-19 lockdown.
Meanwhile, hairdressers and barbers as well as gyms can reopen, along with zoos, theme parks, libraries and community centers.
However, experts have warned that despite progress in vaccine rollout, Britain is "still not out of the woods" amid concerns over new variants and the third wave of pandemic on the European continent.
To bring life back to normal, countries such as Britain, China, Russia, the United States as well as the European Union have been racing against time to roll out coronavirus vaccines.