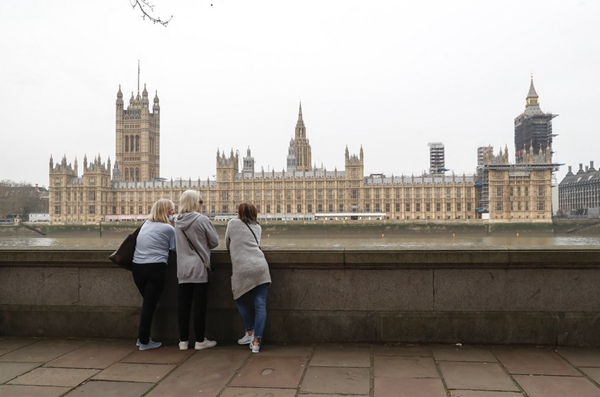 People stand by the River Thames in London, Britain, on March 31, 2021. [Photo/Xinhua]
Another 2,729 people in Britain have tested positive for COVID-19, bringing the total number of coronavirus cases in the country to 4,398,431, according to official figures released Thursday.
The country also reported another 18 coronavirus-related deaths. The total number of coronavirus-related deaths in Britain now stands at 127,345. These figures only include the deaths of people who died within 28 days of their first positive test.
More than 33.2 million people have been given the first jab of the coronavirus vaccine, according to the latest official figures.
Earlier Thursday, the British government said coronavirus passports, or health certificates, will be available "as soon as possible" in the country.
Under the government's roadmap exiting the lockdown, foreign holidays for people living in England could be allowed as early as May 17.
Many tourist hotspots will require visitors to have been vaccinated against COVID-19 or provide proof of a recent negative test before entering the country.
A British Department for Transport spokeswoman said: "We are working on a solution to enable residents to prove their COVID-19 status, including vaccination status, to other countries on the outbound leg."
"We are working on this as a priority and intend to have the solution ready as soon as possible," she added.
Experts have warned that despite progress in vaccine rollout, Britain is "still not out of the woods" amid concerns over new variants, particularly those first emerged in South Africa, Brazil and India, and the third wave of pandemic on the European continent.
To bring life back to normal, countries such as Britain, China, Russia, the United States as well as the European Union have been racing against time to roll out coronavirus vaccines.