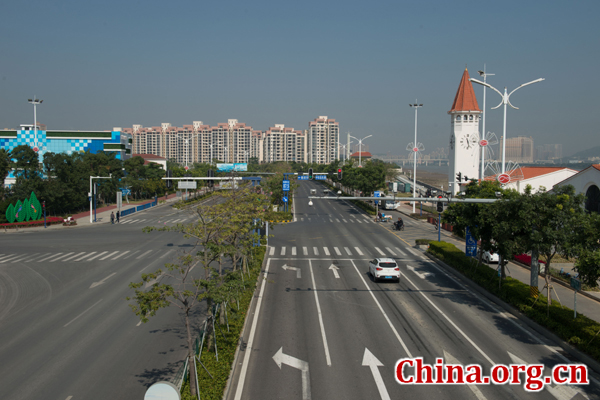 Hengqin [Photo by Chen Boyuan/China.org.cn]
Hengqin became real for me when I first visited the town on Dec. 8, a different place from what I knew from the internet. Though busy with construction, the town is clean and tidy. Hengqin is well on the path of reform and opening up.
The newly rising Hengqing
My colleague visited the town six years ago. He recalled, "At that time there was nothing except a paddy field, you couldn't find a hotel for accommodation." Hotels and inns are now widely available throughout the town.
Here, the coconut trees swaying in the wind are reminiscent of the seaside towns near Miami. You can see kids chasing each other on the square and food stalls with young people in groups of two or three drinking beer and eating oysters. Across the shore, the brilliantly illuminated Macao makesa striking contrast with Hengqin's tranquility.
Sitting in front of a restaurant, I ordered a local snack called "fried rice noodles with three kinds of shredded vegetables." The owner of the restaurant warmly greeted me by asking about the requirements of ingredients and taste as well as introducing the cooking methods used to make the local snacks. She also didn't forget to recommend where the best baked oysterscould be found in Hengqin. Her smile and words showed a sense of happiness and achievement.
By October 2016,Hengqin had a population of less than ten thousand,but a GDP of 13.17 billion yuan. With the newly constructed buildings and the ordinary people who now have a strong sense of happiness, these figures have become gradually taken on a physical form. Increasingly prosperous and livable, this land full of vitality is slowly appearing before people's eyes.
A developing Hengqin
Hengqin is undergoing daily changes that the local people can give a vivid description of.
Hengqin Food Street at noon saw fewer customers during the off-season. A middle-aged woman in her early 30s is busy at her own stall. From our conversation, I learned that she was from central China's Hubei Province and came to Hengqin with her relatives two years ago. She said the monthly rent of the booth was 6,000 yuan, and her monthly income nearly ten thousand yuan. "Changlong Ocean Kingdom is not far from here, hence Hengqin enjoys a tourist boom in the summer," said the woman, "My brother bought a flat with twenty thousand RMB per square meter two years ago and the price has since risen to more than forty thousand RMB per square meter."
Since Hengqin New Area was set up in 2009, unprecedented progress has been made in economic, industrial and technological aspects. The total registered capital of the enterprises in the district is more than 1.2 trillion yuan; 63 of the world's top 500 enterprises have been introduced into the area; 82 key projects with a total investment of more than 320 billion yuan have also been introduced in the area.
In 2016, Hengqin witnessed a rapid development of infrastructure projects. The first batch of domestic inter-city helicopter lines, with Guangzhou-Shenzhen-Zhuhai helicopter routes, have taken off in Hengqin. The Hong Kong-Zhuhai-Macao Bridge is expected to be completed in 2017,which will bring more investors from Hong Kong and Macao. The extension line of Guangzhou-Zhuhai city rail is also expected to be completed in the first half of 2017. Hengqin now has more convenient access to the outside world.
According to the Hengqin Overall Development Plan released in 2009, Hengqin will be developed into an open island connecting Hong Kong and Macao, a dynamic place boasting economic prosperity and high living conditions that features knowledge-intensive and information-based industries, as well as an eco-island of that is resource-saving and environment-friendly.