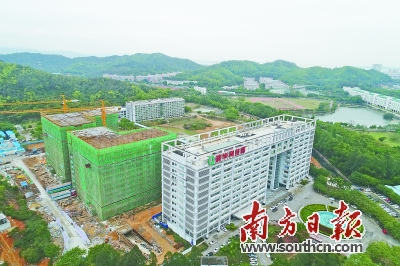 The second stage of the construction project of Tsinghua Science and Technology Park in Zhuhai, Guangdong province will be finished in November, adding new vigor to the city's innovation-driven growth.

Since TSTP was set up in Zhuhai 16 years ago, it has transformed a small town of Tangjiawan to the home of more than 80 enterprises, and an incubator for more than 400 startups and a large number of innovations in technology and management.
Many enterprises in the park are founded by Tsinghua University graduates or supported by technologies developed by Tsinghua alumni or the university itself. These Tsinghua-related companies have become an indispensable power driving the local economy.
An intelligent transport engineering center, jointly built by Tsinghua University, University of Washington and Microsoft is being built in the park, with a first-phase investment of 20 million yuan (US$2.9 million). The center will conduct research on advanced sensor technology to facilitate urban transport management.
Tsinghua University and Zhuhai actively attract high-level talents in technology and management for the park from its overseas branch in the United States, the United Kingdom, Germany and Russia.
The park also signed a strategic cooperation agreement with the US-China Association of High-level Professionals to introduce startup plans and projects from the US to the park's incubators.
Dachao Group, a construction company headquartered in Zhuhai, has an important branch in the park that cooperates with a leading research group in projected display, which helps to save 20 to 30 percent of construction costs of large projected displays on buildings.
Dachao President Huang Youjiang thinks it is the park's pro-innovation and supportive policies which help his enterprise attract top-level experts in the industry, who play an irreplaceable role in adding to his company's competitiveness.
Zhuhai Huaxin Decode Medical Science Co. Ltd.will expand its production of nanometer silver threads and functional membranes, two important medical apparatus, this year, which is going to increase the company's annual output value to more than 100 million yuan (US$15 million) this year.
The company is one of the first enterprises in China to master the fourth-generation nanopore gene sequencing technology, thanks to its research and development staff's two years of work in the park.
Yang Haitao, leader of the research team and general manager of the company, said: "The price of the chips armed with the technology is only one tenth of the imported chips. And our chips work faster and more accurately in testing the gene mutations of dozens of common cancers such as breast cancer, uterine cancer and colon cancer."
Drones, information security technology and smart community technology made and provided by enterprises in the park are also popular in the market.
The expansion of the park will create more places for new enterprises. The government plans to attract another 300 companies and more than 10,000 people for startups and innovation. The annual output value of these new enterprises is expected to hit more than 4 billion yuan.
Nakin Technology Company is the other enterprise in the park which thrives on innovation. Lei Zhen, CEO of Nakin, said: "The ITO transparent conducting film we produce breaks the monopoly of Japanese and South Korean companies in the market. Moreover, our product has better performance and is cheaper to make than theirs. "