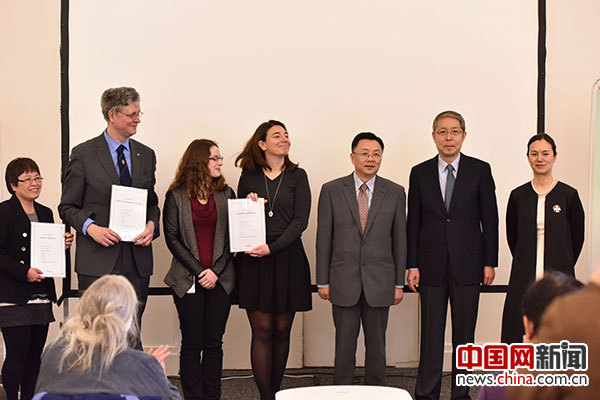 China International Publishing Group (CIPG) releases an English translation of Tang Xianzu's "The Peony Pavilion" and Chinese editions of William Shakespeare's tragedies. [Photo by Wang Zhiyong/ China.org.cn]
This year marks 400 years since the passing of two famed dramatists, William Shakespeare and his Chinese contemporary Tang Xianzu. China International Publishing Group (CIPG) released an English translation of Tang's "The Peony Pavilion" and Chinese editions of Shakespeare's tragedies on April 14.
"The Peony Pavilion" is a love story and classic example of Chinese opera. Tang was ahead of his time in showing a depth of human love, and also giving insight into the lives of women during pre-modern China, so much so that it has lately been analyzed by academics for the views of women that the story provides.
Xu Yuanchong is the renowned writer who has translated "The Peony Pavilion" into English, and Shakespeare's tragedies into Chinese. At 95 years old, Xu was unable to attend the event but he did send a video message in which he explained how Shakespeare and Tang, as well as dying in the same year, also complement each other.
"Shakespeare is the greatest dramatist in the world," Xu said. "The characters he creates are only second to god's [creations]."
On the other hand, Tang is far better at writing romance. In this sense, if society "takes what's good in the West, and the West learns from the East," both cultures will better for it.
Charge d'Affairs from the Chinese embassy, Ni Jing, noted that this year also marks the first year of "the Golden Era" of the China-UK relations, and of people-to-people contact between these two countries.
"Human civilizations have become richer and more colorful thanks to exchanges and mutual learning. So has art," Ni said during his opening speech. "I firmly believe that first-class translations and seminars will make the 'Golden Era' of China-UK relations shine brighter."
The London Book Fair 2016 will also be holding events at Shakespeare's Globe Theater to mark this commemorative year for Tang, Shakespeare, and Spanish writer Miguel de Cervantes, who also died in 1616.