Famous Chinese playwright, writer and translator Yang Jiang, the widow of Chinese literary giant Qian Zhongshu, died Wednesday morning in Beijing. She was 105.
People's Literature Publishing House has confirmed the news to media but said that Madame Yang requested that her obituary only be issued after her cremation.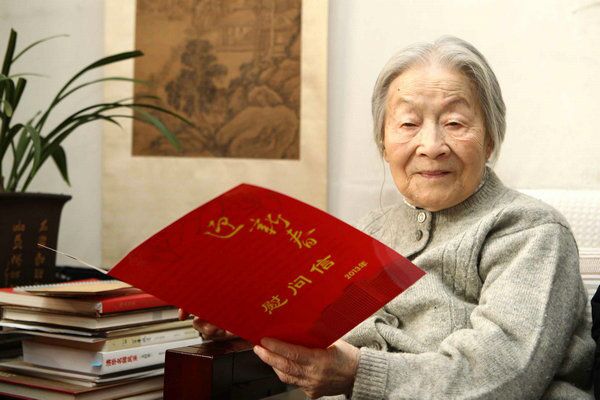 Yang Jiang, famous Chinese playwright, writer and translator. [File photo]
Yang Jiang was born Yang Jikang on July 17, 1911 in Beijing. After graduating from Soochow University in 1932, Yang Jiang enrolled in the graduate school of Tsinghua University where she met her husband Qian Zhongshu.
From 1935 to 1938, they went to Oxford University and Panthéon-Sorbonne University for further study and had their daughter Qian Yuan. They returned to China in 1938. Both Yang and Qian went into academics and made important contributions to the development of Chinese culture.
Yang wrote several successful comedies, one of which, "As You Wish It" has been shown on the stage for more than 60 years. She was the first Chinese person to translate a complete Chinese version of "Don Quixote" from the Spanish original, which had sold more than 700,000 copies in China by 2014.
She wrote a memoir called "We Three," which was published in 2003, recalling her husband and her daughter Qian Yuan (1937–1997), who died of cancer one year before her father's death. The book sold more than 1 million copies.
Even as recently as 2014, at the age of 103, Yang published a new novel "After Baptism." All her works were included in a comprehensive collection of 9 volumes and 2.7 million words.