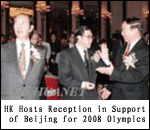 A reception in support of Beijing to bid for 2008 Olympics was held Monday in Hong Kong, with the attendance of noted political and business figures in the community.
The reception was attended by Ji Peiding, commissioner of China 's Ministry of Foreign Affairs in the Hong Kong Special Administrative Region (SAR); Elsie Leung, secretary for justice of the Hong Kong SAR, and Wang Fengchao, deputy director of the Liaison Office of the Central People's Government in the Hong Kong SAR. They all delivered speech and expressed their full support of Beijing's bidding for 2008 Olympics.
The Friends for Beijing 2008 Olympics Games Bid Committee, consisting of people from all walks of life in Hong Kong, was inaugurated at the reception.
The Three Tenors Concert at the Forbidden City was once again announced at the reception. With an expected 2 billion global TV viewers, the concert on June 23 will be the largest-scale event in the campaign of bidding for the 2008 Olympics by China.
The reception also kicked off the e-ticketing system on the Internet, which also provides a channel to track the event online globally.
Jiang Xiaoyu, vice chairman of the Beijing Bid Committee, said at the reception that the Three Tenors Concert puts Beijing under the spotlight of the world during the critical bidding stage.
It is also an integral part to sustain China's image on the fronts of economic reform and open policy, he said, adding that the campaign also aptly shows Beijing capability in staging international events.
(People's Daily 05/22/2001)