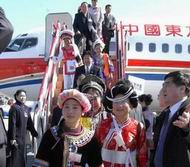 National People's Congress deputies and members of the Chinese People's Political Consultative Conference are arriving in Beijing now. China's top legislature and top political advisory body will both convene their major annual meetings later this week.
From early Monday morning, delegations from 23 provinces, municipalities and autonomous regions arrived at various railway stations and airports in the capital. Many of them say they've prepared bills concerning various hot topics to submit during the upcoming sessions.
CPPCC member Liu Rongyu said, "I'm looking forward to the meeting this year. I've prepared bills concentrating on the public sanitation system. I hope to join hands with other members to perfect the system."
Another CPPCC member Yang Xianming said, "I'm hoping that there will be an effective meeting with bills of high standard, and that the government will approve more bills than last time."
The press center will make arrangements for Chinese and foreign correspondents wishing to cover the two meetings. So far, about 2,000 journalists have signed up to cover the sessions, which will involve 1,200 people from the mainland, 260 from Hong Kong and Macao, and 460 from overseas.
Zhao Lixing, official of Information Department of Chinese Foreign Ministry, said, "Some world famous media have sent more temporary journalists to cover the sessions, such as Reuters, Associated Press and Kyodo News."
So far, 232 permanent offices of foreign news organizations in China have signed up to attend the events. Applications from foreign journalists looking to cover the meetings are also increasing.
(CCTV March 2, 2004)