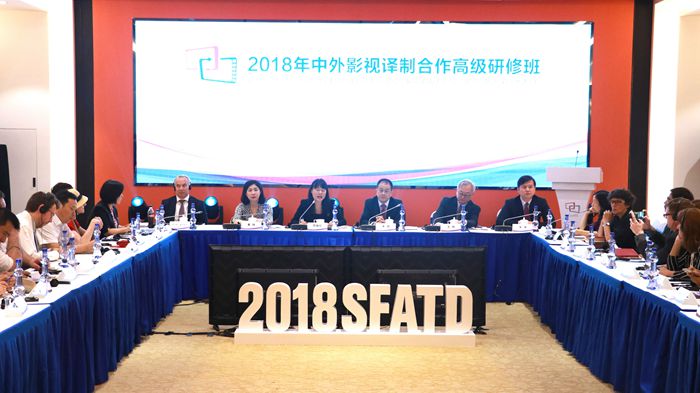 The opening ceremony of the 2018 Sino-foreign Audiovisual Translation & Dubbing Cooperation Workshop (SFATD) was held on June 13 at Shanghai Star Dynamics Innovation Space during the 21st Shanghai International Film Festival.
Forty foreign film professionals from 31 countries, including the United States, Russia, Pakistan, Argentina, Hungary and Cuba, and more than 20 Chinese media and film organizations participated in the workshop.
In his speech during the opening ceremony, the Deputy Director of the Ministry's Bureau for External Cultural Relations Zhu Qi, mentioned that the cooperation and communication between China and other countries on China-foreign audiovisual translation is an essential way to promote the Belt and Road Initiative and offer opportunities to foreigners to learn Chinese culture and philosophy.
Tamás Kovács, CEO of Hungary ATV television channel , expressed his hopes during the opening ceremony that by participating in the workshop China and Hungary will cooperate more frequently on producing news and other popular television programs.
The workshop was hosted by the Bureau for External Cultural Relations, Ministry of Culture and Tourism of the People's Republic of China and the International Cooperation Department of the State Administration of Radio and Television and will be held from June 12 to June 18 during the 21st Shanghai International Film Festival. Activities include multiple forums and visits such as exchange of Chinese film and television work and a visit to the Shanghai Media Group.
SFATD, held annually since 2015, aims to strengthen communication and cooperation, encourage mutual appreciation of outstanding film and television products and enhance mutual understanding and friendship between China and foreign countries. It is the second workshop offered this year. The first was held in late April in Beijing.