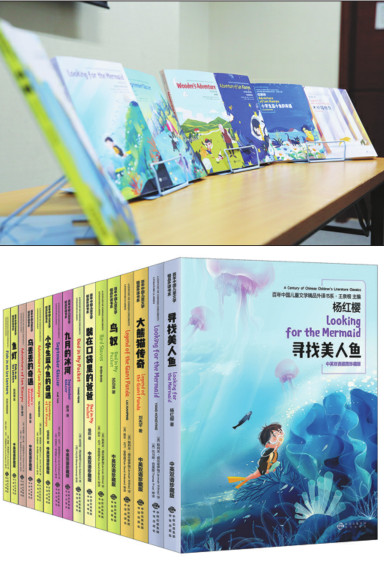 A set of Chinese children's literature classics was published in Beijing last week.
"This is the first time that Chinese children's literature has been published in a systematic way, and it will fill a gap in the market," says Zhang Gaoli, the editor-in-chief of China Translation & Publishing House.
The 16 books were published on Aug. 22 to coincide with the Beijing International Book Fair.
Children's literature is a thriving genre, yet only a handful of Chinese children literature writers are known in the world at large. These include Cao Wenxuan, the first Chinese winner of the Hans Christian Andersen award, and the nationally acclaimed children's storyteller Yang Hongying.
"We chose the most attractive stories from a range of modern Chinese children's literature," says Zhang.
"They reflect the core values and life of Chinese families."
The set comprises eight works and their English translations covering influential Chinese children's literature writers such as Jin Bo and Wu Meizhen.
To ensure the quality of translation, the publisher says, it employed more than 10 translators and proofreaders, most of whom are scholars or have spent years doing Chinese translation studies. The project took two years to complete.
Each book includes illustrations and a QR Code on the back cover that gives access to audio tracks of the stories that can be heard on phone.
Speaking about the work, Wang Quangen, chief editor of the series and a professor at Beijing Normal University, says: "Children's literature reflects truth, virtue and beauty common to all nations, so it has no borders."
Wei Yushan, the head of the China Academy of Press and Publication, says: "It's not just for children in Western countries, but also for Chinese children growing up overseas.
"The stories are rooted in traditional culture. They are like breast milk for these children to sustain their bond with their motherland."
Children's literature was one of the highlights of the Beijing book fair, held from Aug 22 to 26, with a special section for children held for the first time.
Meanwhile, Dang Dang, an online shopping platform in China, says it sold 410 million children's titles last year, 60 percent more than in 2016.
The value of sales of children's literature books alone was 1 billion yuan ($146 million), accounting for 18 percent of the value of children's book sales, it says.
Xue Tao, one of the writers whose work is included in the series, says that purity and love among other characteristics of children's stories touch readers regardless of their race or nationality.
His book September Glacier featured in the series is set on the China-Russia border and tells the story of a Chinese boy, a Russian boy and a dog befriending one another and experiencing joy and pain together.
Explaining the significance of the series, Zhang says: "With the Belt and Road Initiative, people in many countries are keen to learn about Chinese culture. So the demand for Chinese literature is rising.
"And we plan to tap into the demand by translating our children's stories into more languages."
In March, Zhang attended the Bologna Children's Book Fair in Italy, where China was the main guest country.
Speaking about the future, Zhang says he is delighted that Chinese children's literature is at last gaining international recognition, but adds that he is aware of the long road ahead as China looks to internationalize such literature in the way that many Western countries have.
"The gap lies in the way we present our stories.
"We clearly have great stories to tell, but we need to better combine form and content, such as the way we use images and audio, and develop these stories into copyright material."
For now, China Translation& Publishing House has set up 16 China-themed international editorial departments to improve how it selects what it wants to publish.
"Chinese children's literature mirrors the values of the Chinese nuclear family," says Zhang.
"It represents our characteristics and attitudes to life and nature.
"We hope the publication of this bilingual set of children's books not only introduces our culture to the world, but also gives people a useful perspective as they observe China and learn about it."