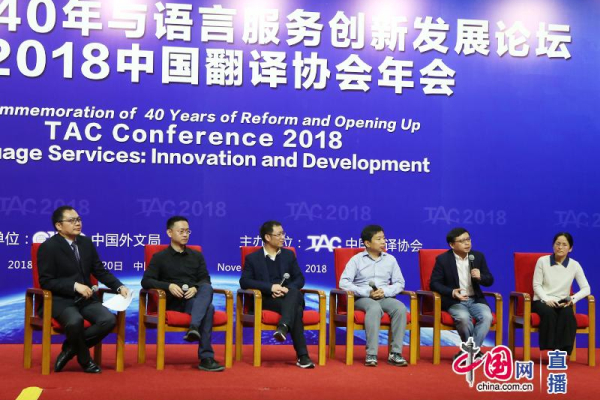 Whether machine translation will replace the human version was a major issue that computer-aided translation (CAT) experts and language technology business leaders discussed at a forum on innovation and development of language services over 40 years of reform and opening up, held in Beijing Nov. 19-20.

Chinese AI giant iFLYTEK is one of many Chinese language service companies who shared insights and presented new achievements. Five months ago, it announced a plan to work with China International Publishing Group (CIPG) to build a national translation platform based on its AI technologies.
After presenting a translation machine developed by his company, which can translate Chinese, even with a distinctive northeastern accent, into English, via a demonstration video clip, Hu Guoping, senior vice president of iFLYTEK, said, "The capacities of AI, like constant evolvement and cost-free duplication, are something with which people cannot compete."
He added that the deep neural networks, on which machine translation is based, is very powerful and can be very commonly used.
However, the networks require a huge volume of translation data, Hu admitted, emphasizing one of the current limitations of machine translation.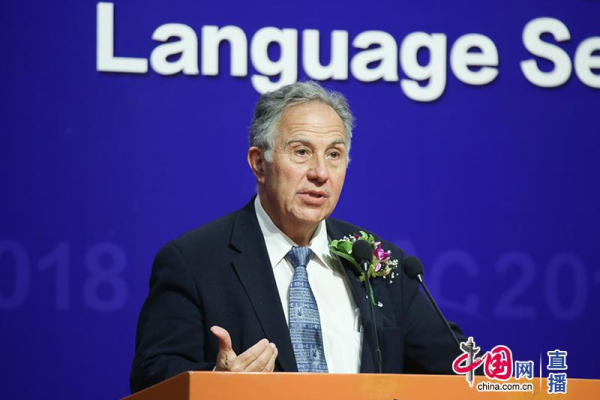 The vital importance of data was also stressed by Eric Yu, founder and CEO of one of China's sophisticated translation companies GTCOM, who has been working as a simultaneous interpreter for over 10 years.
"However, machine translation can now produces practically homogenous content, because companies use basically the same data," he said, adding that he personally felt reluctant to use machine translation content now in his simultaneous interpreting.
Li Xuechao, vice president of Tencent Intelligent Platform, also touched upon the advantages of machine and human translation respectively in his presentation. "Machine translation based on neural networks features rapid learning; however, human translation features high accuracy and flexibility."
Tencent is one of China's major internet companies. According to Li, its machine simultaneous interpreting service has been used at many recent conferences. However, in creative translation, humans had an incomparable advantage.
Different from the companies developing machine translation technologies, Huawei, a leading global ICT solutions provider in China, has professional technology translation teams who use machine translation and related technologies in their work.
Machine translation and translation memory help Huawei translation teams improve their work efficiency, said Chen Shengquan, an expert on machine translation products in Huawei.
However, he also said that, right now, machine translation performs better when being used to translate short sentences rather than long ones, and performs better when being used to translate English-to-Chinese sentences rather than Chinese-to-English ones.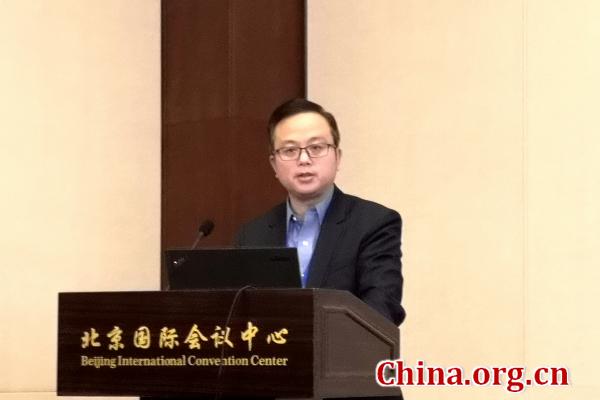 For the discussion on whether machine translation will replace the human mode, Alan Melby, vice president of the International Federation of Translators, in his keynote speech on Nov. 19, took a firm stand that machines would not replace humans in translation.
He said that machine translation based on AI and neural networks can engage in low-level translation with satisfactory fluency; however, it requires human translators and interpreters to fulfill high-level translation to guarantee the accuracy.
In view of the rapid development of technologies, Zhu Chaowei, vice president of Sichuan International Studies University (SISU), said in an interview with China.org.cn on Nov. 20 that SISU has opened CAT and related courses to accommodate the trend of technology development so that students can better fit the requirements of companies after graduation.
He also added that machine translation would not replace, but rather complement human translation and facilitate the translation of certain scenarios.
Meanwhile, Wang Haibo, a senior expert of Alibaba, said that whether machines will replace humans, "if you ask it this way, then you are looking at the question in a wrong way. Machine translation and human translation will coexist and translate together."
Henry He, chairman and CEO of Transn IOL technology Co., Ltd, also made projections on the future of the translation industry. According to him, in the future, every interpreter will have a robot twin to help his or her work, and the translation industry will feature small companies, medium platforms and a large ecology.
"Now, I'm talking about the future, but the future may come tomorrow," he added.