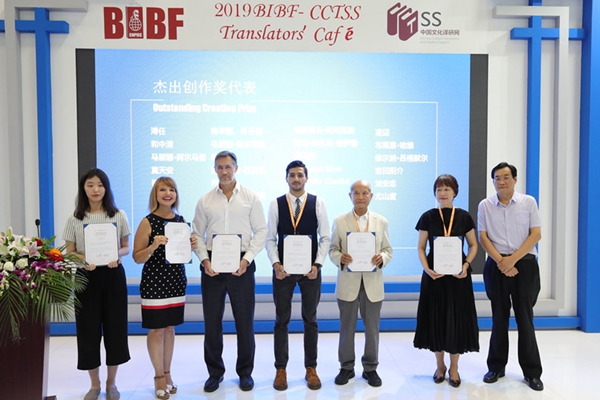 Writers and publishers who participated in the Writing on China by Foreigners project were recognized on Friday in Beijing at the 26th Beijing International Book Fair.

The project was launched worldwide by the Chinese Culture Translation and Studies Support Network (CCTSS.org) of the Beijing Language and Culture University (BLCU), in June 2016 under the guidance of the then-State Administration of Press, Publication, Radio, Film and Television of China.
It aims to find, fund and publish outstanding works on China by foreigners, including sinologists, authors, translators, professors, journalists, publishers, scholars and other noted public figures. Ultimately, it aims to promote cultural communication between China and other countries. The project has completed three phases in the past.
Five writers, Scott Pruett, Peter Coyne, Wanaka Kiyoshi, Marina Almășan and Andrew Mok, as well as representatives from 25 domestic and foreign publishers such as China National Publications Import & Export (Group) Corporation, Tianjin People's Publishing House, Jiangxi Education Publishing House, received awards, including the outstanding creation prize, excellent organization prize and excellent topic prize.
Speaking at the ceremony, Xu Baofeng, head of the national project undertaken by CCTSS.org and a professor at BLCU, said Chinese culture had faced a series of opportunities and challenges in the process of "going global".
He hoped to attract more international writers and publishers to join in the journey of discovery, creation and publication of Chinese subjects in order to solve the problems of not being "acclimatized" in the "going global" process of Chinese culture.
Nie Zhenning, chairman of Taofen Foundation China and vice chairman of The Publishers Association of China, said the book publishing industry was maintaining a vigorous development trend, with one of the most important aspects being cross-cultural communication.
The Writing on China by Foreigners project created works of Chinese content through the eyes of foreigners, "making Chinese culture more accessible to readers of the same native language as the writers, and making it easier to gain international recognition, effectively promoting cross-cultural exchanges and promoting Chinese contentin the overseas cultural ecosystem," he said.
CCTSS.org also published the application guide for the fourth phase of the Writing on China by Foreigners project. Starting from the day the guide is released, based on their thorough research and within the application requirements, all institutions are invited to select and decide on the writer and topic of their books, and submit all application materials, a sample book draft, and a writing outline to the project Secretariat by Dec. 31, 2019. The official website http://www.cctss.org/ can be accessed for application.
Meanwhile, a "Writing on China by Foreigners" Project Writing Resource Platform was launched at the ceremony. Twelve member publishers, including China South Publishing & Media Group and Phoenix Publishing & Media Group, signed a joint memorandum of understanding.
The platform aims to provide excellent international topics to domestic publishing organizations for resources promotion and publishing cooperation. In the future, the platform will carry out international topic selection planning, and rely on rich resources of experts and scholars to select the topics to solve the difficulties domestic publishing institutions face in regard to international vision and to select appropriate topics for writers that could interest foreign readers.