Ten out of 48 French-to-Chinese translation works made it to the final list of the Prix Fu Lei 2020 (Fu Lei Prize). The final result of the 10 works — five books on social sciences and five literary titles — will be announced at the French embassy in Beijing on Nov 21.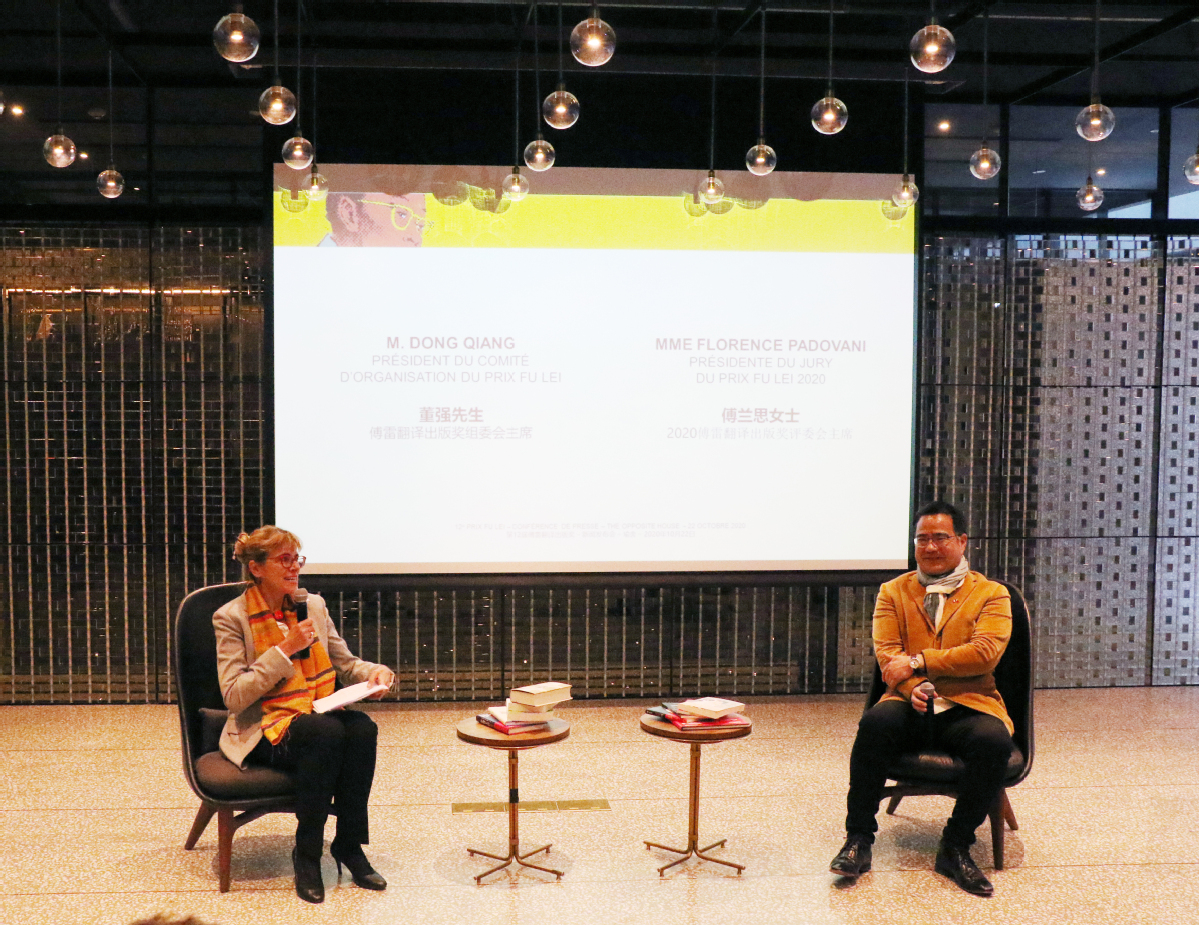 The prize, founded 12 years ago and named after the prominent Chinese translator Fu Lei, promotes the cause of translation, Dong Qiang, president of the prize's organizing committee, said at the news conference in Beijing.
In 1928, Fu Lei went to France to study theories of literature and art at the University of Paris for three years. He later translated several French works of literature and philosophy, such as those by Honore de Balzac, Roman Rolland and Francois Voltaire, into Chinese, exerting great influence on generations of Chinese readers and writers.
"A lot of teachers at the university complain how translation is underappreciated in China. But Prix Fu Lei is an encouragement. That's why we decided to continue this prize, despite the difficulties this year as many cultural events have been cancelled, " Dong said. He is also the director of French language and literature department at Peking University.
Since 2013, China has become the biggest partner of France in global publishing industry.
"It's not only because Chinese readers and publishers are interested in French literature and culture, but due to the hard work of translators and publishing houses, to whom we pay our tribute with this prize," Mikael Hautchamp, counsellor of culture, education and science of French embassy, said.
Unlike in previous years, there will be no French authors of the winning titles attending the offline events opened to the public due to the COVID-19 pandemic.
"But this year, we have moved the prize ceremony and related events to our embassy in Beijing as well as Institut Francais," Hautchamp said.
"Besides, this is our 12th year, so we are organizing an exhibition on Fu Lei's early years in France," he said.
Despite his great influence, many people, Chinese or French, often ask me what made Fu a great translator, Dong said.
"So, as the prize turns 12, I happened to encounter some very interesting material about Fu Lei's life and study during the three years in France — how he avidly studied French language and culture and how he got the support of important French intellectuals, writers and philosophers. These all laid the foundation for Fu's later development," Dong said.
In addition to the exhibition, the Institut Francais will also host a series of related lectures.
Chinese writer Li Er, who won the Mao Dun Literature Prize for his novel Ying Wu Xiong (Brother Yingwu) in 2019, said that the first book he bought from Xinhua Bookstore was the Chinese translation of Victor Hugo's Les Miserables.
"On Fu Lei, you can find all the virtues of Chinese intellectuals. He was China's conscience, so he could be the best translator for French literature," Li said. He is also one of two special guests for the assessment, who do not know French but will tell whether the translation works have properly conveyed the thoughts and the atmosphere of the French books in Chinese language.
Dong said, "Fu is extremely gifted in understanding the texts thoroughly. It's almost impossible to beat him if you re-translate those works he did."
Florence Padovani, president of the jury for this year's prize, is satisfied with the shortlisted works because they will help Chinese people better understand not only French people's lifestyle and exquisite feelings, but also important knowledge and analysis of French philosophy, history and legal conception, which are fundamental for modern France, she said.