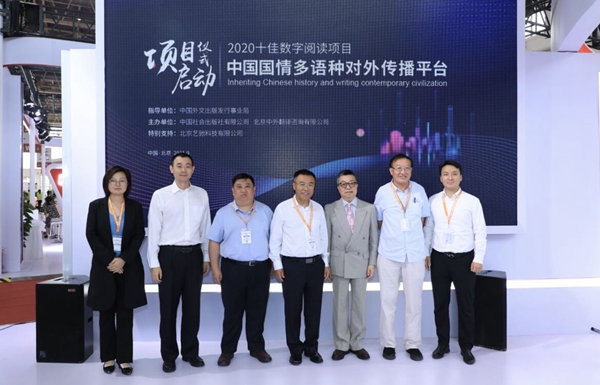 The Spanish version of China's multilingual overseas communication platform, jointly launched by China Society Publishing House and Beijing Chinese-Foreign Translation & Information Service (CTIS), debuted on Wednesday at the 28th Beijing International Book Fair.
The new version is the result of the third phase of the platform. Drawing on data from the "Administrate Code of People's Republic of China," and deploying digital and AI-assisted translation technologies, the platform provides a full coverage of detailed information about 45,000 administrative areas at provincial, prefecture, county, and township levels across China. Besides Spanish, the platform also provides English, French, and Russian versions, which were rolled out in previous phases.
Specific information available on the platform includes latitude and longitude, administrative division, population, area, climate, hydrology, agriculture, industry, commerce and foreign trade, and hundreds of other data items.
"The platform aims to help the world better understand China, enhance consensus with other countries, and make due contribution to the Belt and Road Initiative and the community of a shared future for mankind," said Li Hao, deputy director of China Society Publishing House, in his speech at the launch event.
"With China's rapid economic and social development, never before has the world paid so much attention to China," Li explained. "Our purpose is to promote cultural sharing and communication, and present Chinese culture and socio-economic achievements to the world, especially to people along the Belt and Road, in a way that is understandable to them."
"We have researched more than 700 overseas institutes, and received their feedbacks," Li said. "Our profits are mainly from foreign colleges' libraries and data companies. Next step, we will present more pictures, videos, and introduce mini programs and H5 of Chinese intangible culture heritage, in order to promote cultural exchange as well as increase our economic rewards."
CTIS Chairman Yang Yuqian also spoke at the event. "CTIS has followed the digitalization trend of cultural industries, and enhanced the use of new technologies in publishing," he said. "The platform will present research results of China's national conditions in a multilingual and internationalized way, introducing China's conditions and development of all regions."