Center of Excellence on Nuclear Security
At the first Nuclear Security Summit in 2010, the Chinese and U.S. heads of state agreed to jointly establish a center of excellence (COE) on nuclear security in China to facilitate regional nuclear security cooperation. At the fourth Nuclear Security Summit in 2016, President Xi Jinping announced that the Center of Excellence on Nuclear Security had been completed and put into operation in Beijing one year ahead of schedule. The COE, the largest government-funded cooperative project between China and the United States in the nuclear field, has been hailed as a model of international cooperation in nuclear security. The COE, operated and managed by the State Nuclear Security Technology Center of CAEA, is used for international nuclear security exchanges and cooperation, advanced technology demonstration, equipment testing and certification, and personnel training and education.
Since its launch in 2016, the COE has provided training for more than 4,000 nuclear security practitioners from home and abroad, becoming an important training and exchange platform for nuclear security in the Asia-Pacific region. Relying on the COE and its related resource platforms, The CAEA and the IAEA have established a Collaborating Center for Nuclear Security Technologies and signed cooperation agreements on nuclear forensics research and nuclear security support for major public events.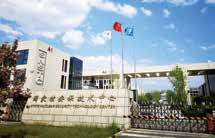 核安保示范中心
在2010年首届核安全峰会上,中美两国元首达成共识,决定联合在华建立核安保示范中心,以在地区核安保合作方面进一步发挥作用。2016年第四届核安全峰会上,习近平主席宣布,核安保示范中心已经提前一年竣工并在北京投入运营。核安保示范中心作为中美两国在核领域由政府直接投资的最大合作项目,被誉为核安保国际合作的典范。该示范中心具有核安保国际交流合作、先进技术展示、设备测试认证、人员培训教育等四大功能,由国家原子能机构所属的国家核安保技术中心负责运行管理。自2016年建成投运以来,已培训国内外核安保从业人员4000余人次,成为亚太地区重要的核安保培训与交流平台之一。依托示范中心等资源平台,中国国家原子能机构与国际原子能机构合作设立了核安保技术协作中心,并签署了核法证学技术研究、大型公众活动核安保支持等合作协议。