Construction of Overseas Nuclear Power Plants
On December 31, 1991, China signed a contract with Pakistan for the construction of a 300 MWe nuclear power plant, which kicked off China's export of nuclear power plants. By 2021, China has built six nuclear power units in Pakistan, all of which were undertaken by China Zhongyuan Engineering Corporation. Among them, the four units of CHASNUPP-I were completed in September 2017. The construction of Karachi NPP units 2 & 3 with Hualong One technology started in Pakistan in August 2015 and May 2016 respectively. The unit 2 was put into commercial operation on May 20, 2021, setting a record for the shortest construction period for 1,000 MWe-class Gen III nuclear power units exported by China; the unit 3 is expected to be commissioned in the first half of 2022.
In November 2017, China and Pakistan signed a commercial contract for the construction of Unit 5 of Chashma NPP, marking the third Hualong One unit to be built in Pakistan.
In September 2016, China and France signed a package of cooperation agreements for the UK nuclear new-build project, and the construction of the Hinkley Point C, which is jointly funded by China and France, has started. In addition, China has signed agreements with Argentina, Brazil, Turkey, South Africa, Saudi Arabia, Jordan and other countries to actively promote cooperation in nuclear power and related fields.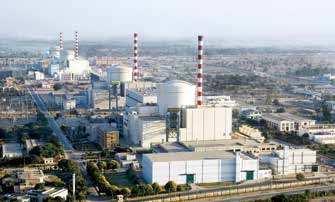 海外核电建设
1991年12月31日,中国与巴基斯坦签订了建设30万千瓦核电站的合同,开启了中国核电出口的序幕。截至2021年,中国在巴基斯坦建设了6台核电机组,均由中核集团中原公司总承包。其中恰希玛核电一期工程4台机组于2017年9月全面建成。2015年8月和2016年5月,采用华龙一号技术的巴基斯坦卡拉奇核电站2、3号机组先后开工建设,其中2号机组于2021年5月20日投入商业运行,创造了百万千瓦级三代核电出口机组建设的最短工期;3号机组计划于2022年上半年投运。
2017年11月,中国与巴基斯坦正式签署建设恰希玛核电站5号机组商务合同,标志着第3台华龙一号机组将落地巴基斯坦。
2016年9月,中国与法国签署了英国新建核电项目一揽子合作协议,由中法共同投资建设的欣克利角C项目已开工建设。此外,中国还与阿根廷、巴西、土耳其、南非、沙特、约旦等国分别签署有关协议,积极推进核电和相关领域合作。