Located in the Central University for Nationalities, Ethnic Museum houses over 20,000 cultural relics relating to China's 56 ethnic groups. The majority of these are traditional costumes and ornaments that exemplify expertise on the part of ethnic minorities in weaving, dying, embroidery and tannage. Some are decades, and others centuries old. Exhibits such as the gifts to Chairman Mao Zedong and the central government in the early days of the People's Republic from the Panchen Lama, Dalai Lama, and ethnic minorities across China are of great political and historical significance.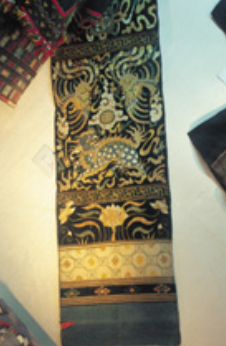 Among the museum's collections are Paleolithic and Neolithic age stoneware, Shang (1600-1100 BC) and Zhou (771-221 BC) dynasty bronze wares, and bronze mirrors and drums, clay figures, porcelain, coins, paintings and calligraphic works dating from the Qin (221-206 BC) and Han (206 BC - 220) dynasties. There are fans from the Yuan (1271-1368), Ming (1368-1644) and Qing (1644-1911) dynasties, gold and silver vessels used by members of the Tibetan and Mongolian peerage, and Tibetan thangkas (sacred Buddhist paintings). The museum also has exhibits of Li minority dragon quilts, She minority ancestral paintings, Tibetan Buddhist sutras and records, and ancient Tibetan, Dai, Yi, Naxi and Shui writings.

The museum is currently holding an Exhibition on Apparel worn by China's Ethnic Groups in northeastern, northwestern, mid-southeastern China, and Inner Mongolia. The exhibition also has on display ancient handicrafts and articles of daily use. These include a Song Dynasty porcelain pillow, the fan presented by Qing Emperor Guangxu to Empress Dowager Cixi on her birthday, a carved ivory ball from ethnic people to Chairman Mao, and a miniature Koran. The exhibition demonstrates the rich culture, diligence and wisdom of the Chinese people of various ethnic groups, and is aimed at further advancing their solidarity and prosperity.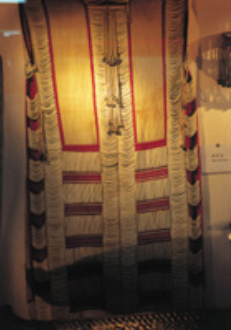 Over the past decades the museum has held exhibitions in Beijing, Zhanjiang, Kunming, Macao, Japan and the ROK. At the suggestion of the relevant committees, its Exhibition on Ethnic Minorities Apparel Culture was held during the 11th Asian Games and the 4th World Conference on Women. During September-October 2000 an Exhibition of Tibetan Folk Culture was held in the Republic of Korea.
In addition to collecting, storing, displaying and carrying out research on ethnic relics, the museum runs a course on ethnic dress design and modeling, currently attended by 30 students. With the help of its team of models, the museum has staged various highly acclaimed ethnic dress fashion shows, such as "Mountain, Field and Folklore---Ethnic Apparel in Southern China," and "Rare Flowers of China -- Apparel Worn by the 55 Ethnic Minorities of China." A new show, "Choice Ethnic Minority Apparel," is scheduled for the first half of 2003. The museum also lend-leases ethnic habiliments.
Further Information:
Address: Central University for Nationalities
27 Zhongguancun South Street, Haidian District, Beijing 100081
Open: 8:00 -- 12:00 & 14:00 -- 18:00, Monday to Friday
Admission: 10 yuan
Tel: 8610-6893 2760
Fax: 8610-6893 2390
E-mail: minzu65426@sina.com.cn
(China.org.cn May 1, 2005)