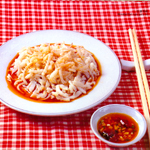 Ingredients:
1 piece of 250 grams (0.55 lb) freshwater fish
2 grams (2/5 tsp) cooking wine
2 grams (1/3 tsp) salt
3 grams (1 1/2 tsp) dry cornstarch
1 egg (only use the egg white)
10 grams (2 tsp) spicy oil

Directions:
1. Remove the fish skin by placing the fish skin side down and cutting in the middle deep to the skin. Then continue to cut side ways to separate the meat from the skin.

2. Cut the fish into shreds and place these in a bowl. Add the cooking wine, salt, egg white, and dry cornstarch.

3. Heat water and then quick-boil the coated fish shreds. Take out, drain off the water and put the fish shreds in a bowl.

4. Add the spicy oil and mix before serving.

Features: The meat is tender and refreshing.
Taste: Spicy and delicious.