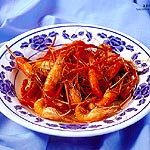 Ingredients:
500 grams (1.1 lb) live prawns
10 grams (1/3 oz) sectioned scallions
5 grams (1/6 oz) ginger cut into chunks
25 grams (1 3/4 tbsp) cooking wine
1,000 grams (2 cups) water
6 grams (1 tsp) salt

Directions:

1. Put the water in a pot, add the scallions, ginger, and salt and bring to a boil. Put in the prawns. Add the cooking wine and, once the prawns are done, take out.

2. Get rid of the scallions and ginger from the liquid and let it cool off. Put the prawns back into the liquid to soak for 5 minutes and they are ready to serve.

Features: Beautiful red color.
Taste: Slty and delicious.