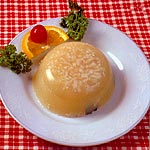 Ingredients:
500 grams (1.1 lb) freshwater fish
10 grams (2 tsp) agar
5 grams (1/6 oz) green vegetables
5 grams (1/6 oz) cooked ham
25 grams (1 3/4 tbsp) cooking wine
15 grams (2 1/2 tsp) salt
10 grams (2 tsp) scallion juice
10 grams (2 tsp) ginger juice
1000 grams (2 cups) water

Directions:

1. Wash the fish clean, remove the bones and skin, and cut into small dices. Place these in a bowl. Add the cooking wine, salt, scallion juice, ginger juice and mix. Boil the fish dices for 2 minutes. Take out, drain off hte water and put it into a bowl. Soak the agar in fresh water, wash clean and cut into fine shreds. Add the agar shreds to hte fish soup. Cut the vegetables into sections. Slice the ham.

2. Put one tsp of fish soup in each of six smmall bowls, and cool in the refrigerator for 5 minutes before taking out. Make beantiful patterns with the green vegetables and sliced ham on top of the fish soup in hte bowls. Add the fish dices an doriginal soup to the brim of the bowls and put them back again in the regrigerator. Take out 5 to 8 minutes later and put upside down on a plate.

Features: As crystal as jade.
Taste: Cold, refreshing and delicious.