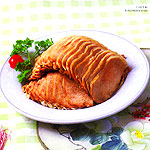 Ingredients:
500 grams (1.1 lb) boneless mutton leg
10 grams (1 1/2 tsp) soy sauce
10 grams (1/3 oz) sectioned scallions
10 grasm (1/3 oz) ginger cut into chunks
10 grams (2 tsp) cooking wine

Directions:

1. Wash hte meat and boil it in a pot. Take it out after the water boils to wash it clean. Skim off hte foam in the pot and put the meat back in it. Add the scallions, ginger and cooking wine. Cover the pot and bring to a boil. Turn to low fire to simmer for 2 hours.

2. Take the meat out. Get rid of the scallions and ginger. When the meat is cool, cut it into slices and sprinkle on the soy sauce to serve.

Features:Looks very enticing with its colors of white meat and brownish soy sauce
Taste: Salty and delicious.