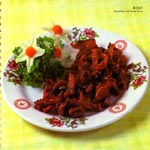 Ingredients:
1 chunk of 350 grams (0.77 lb) of freshwater fish with the skin on
1,500 grams (3 cups) oil (only 100 g or 7 tbsp to be consumed)
150 grams (12 tbsp) sugar
100 grams (5 1/2 tbsp) tomato sauce
10 grams (1/3 oz) mashed garlic
80 grams (6 tbsp) dry cornstarch
2 grams (1/3 tsp) cooking wine
50 gram (3 tbsp) water


Directions:

1. Place the fish on a chopping board with the skin side down. Cut the meat deep all the way to the skin and , with the next cut, remove a section of fish.. Repeat this process to cut the whole fish away from the skin. Marinate for 1 minute with the cooking wine and salt. Dust on the dry cornstarch and shake off the excess cornstarch.

2. Put the sugar, 1 g (1/6 tsp) of salt, tomato sauce and water in a bowl to make a sauce.

3. Heat the oil in a wok to 200-220:C (390-430 :F). Deep-fry the fish chunks and bring them out to drain off the oil when they are golden yellow in color.

4. Keep 5 g ( 1 tsp) of oil in the wok and stir-fry the mashed garlic until it produces a distinctive aroma. Pour in the sauce and stir. Then put in the fish to allow the fish chunks to become eventually coated with the sauce. Now fish is ready to serve.

Features: Shiny red in color.

Taste: Sweet, with a sour touch.