Over the past 10 centuries or more, except for some monasteries and residences of rich people in Lhasa, Xigaze and other areas, no progress has been made in Tibet in developing a modern building industry. Before the Democratic Reform in 1959, the urban area of Lhasa was less than 3 square km, with a population of only around 30,000. And the construction area of residential buildings was only 220,000 square meters.



After the peaceful liberation in 1951, Tibet still failed to launch urban construction on a large scale due to the difficulties left over by history, including an underdeveloped economy, backward communication and transportation facilities and shortage of materials and technologies. In the eight years from the peaceful liberation in 1951 to the Democratic Reform in 1959, only some badly needed public facilities for electric supply, medicine, culture, education and sanitation were built.

Since 1959, however, the Central Government has sent a large group of workers, cadres, intellectuals and engineers selected from the whole country to Tibet to help improve the poor and backward local situations. As a result, a great improvement was seen in urban construction in the cities of Lhasa and Xigaze, which elevated the region's building industry to a new stage. In Tibet, which is dubbed "the roof of the world"for its high location above sea level, a group of modern buildings with strong ethnic and local flavors have sprung up.

After the mid-1980s, along with the deepening of reform and opening-up, many building workers flowed into Tibet from the inland areas, injecting new vigor to the local building sector. In Lhasa, Xigaze and some other important area, many buildings are of composite structure normally found in inland areas, while others are of wood-and-stone structures geared for the renovation of old buildings. The adroit design combining modern art with local tradition reflects a strong national flavor. The building sector has made great contributions to protecting the old Tibetan culture and art, and to keeping abreast of the world's advanced trends in the building sector.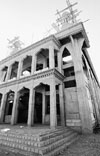 During the Ninth Five-Year Plan (1996-2000), 15 provinces and cities, each having a specific target location in Tibet for aid, launched urban construction projects suited to Tibetan conditions. This has greatly pushed up the construction in cities and towns, with the urban facilities further improving in these places.

By the end of 2000, the daily supply capacity of running water to cities and towns reached 320,000 cubic meters. Running water was supplied to 60 percent of urban residents. Gas and solar energy stoves are widely used, with 230,000 people using liquefied gas. Hence, a great improvement has been witnessed in the appearance of the city. In addition, some buildings with local marks and Tibetan features have sprung up, enriching city sightseeing places.