China's prime time ban on foreign cartoons was imposed in response to requests the country's kids and parents, a senior official with the State Administration of Radio, Film and Television (SARFT) said Thursday.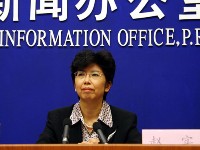 Zhao Shi, SARFT's deputy director, said at a news briefing that "The ban meets the demands of children and parents who want to watch domestic cartoon programs in prime time."
In contrast to Zhao's remarks, a survey conducted earlier shows about 80 percent of interviewed Chinese children like foreign cartoons and a certain number of them said they didn't like domestic cartoons.
Shi also noted China has not limited the import of foreign cartoons and many television stations across the country are still broadcasting foreign cartoons outside of prime time, according to Zhao.
Many Western countries impose limits on the broadcast of foreign productions during prime time viewing hours.
SARFT banned foreign cartoons from prime-time television beginning September 1 which according to experts was a move to further give the domestic cartoon industry a boost.
Cartoons co-produced by domestic and foreign animation studios also need to obtain approval from the SARFT if they are to be aired between 5:00 PM and 8:00 PM.
Broadcasters were told to limit use of foreign cartoons in 2000 at a time when Japanese animation dominated the market. In 2004, the government limited to 60 percent of the total shown of foreign cartoons that can be shown during prime time.
"China's domestic animation industry now has some momentum," Zhao said.
The country produced more than 50,000 minutes of animation by the end of August this year, exceeding the total output last year of 42,759 minutes.
The domestic animation industry is expected to produce 70,000 minutes of animation this year, a sign the industry is developing rapidly.
SARFT has approved three cartoon channels since 2004 and the Guangzhou-based Southern TV Station will launch a new cartoon channel in Sept. Fifteen film and cartoon production bases have been established in recent years.
(Xinhua News Agency September 14, 2006)