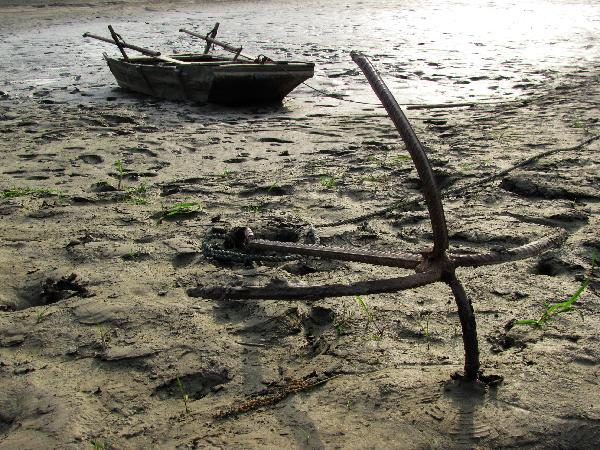 A boat is seen stranding on the dried up riverbed of Hanjiang River in Yunxian County, Hubei Province, May 15, 2011.
2011年5月15日,一只船在湖北省郧县干涸的汉江上搁浅。
久旱造成中国中部省份水库干涸
据新华社报道,湖北水利管理部门周一表示,持续5个月的旱情已致使1392个水库失去作用,水位降到死水位以下。
湖北省水利厅的高级官员袁俊光表示,截止周日,4个中型水库和1388个小型水库的水位降到正常放水水平以下。他说,即使是南水北调工程的重要组成部分—丹江口水库的水位周六也降到较死水位低4.23米的水平。
旱情已致使31.5万人和9.73万头牲畜缺少饮用水,约83万公顷农田受影响。气象学家周月华表示,拉尼娜是造成旱情的原因。但长江水利委员会官员黄奇说,旱情并不是缺水造成的,而是水资源分布不均。他呼吁建立全国性的统一蓄水系统。
国家电网表示,与此同时,湖南、湖北、河南、江西、山西等中国中部省份的供电系统也面临着巨大的压力。
新华社报道说,造成今年严重的电力短缺的另一个原因是,中国正在通过鼓励投资新能源在内的新兴行业,以推进经济发展模式。
Reservoirs run dry in provinces in central China

The Hubei water authority said Monday that a five-month drought has left 1,392 reservoirs useless, with water below the level at which it is considered dead, Xinhua News Agency reports.
As of Sunday, water in four medium-sized and 1,388 small-sized reservoirs had dropped below the permissible discharge level, Yuan Junguang, a senior official at the Hubei Provincial Water Resources Department said. Even the Danjiangkou Reservoir, a key component of the south-to-north water diversion project, saw its water levels drop drastically to 4.23 meters below its dead water level on Saturday, he said.
The drought has left about 315,000 people and 97,300 livestock short of drinking water, and has affected about 830,000 ha of farmland. Meteorologist Zhou Yuehua said La Nina was to blame for the drought. But Huang Qi, an official of the Yangtze River Water Resources Committee, said the cause was not a water shortage but uneven distribution of water resources. He called for the establishment of a nationwide water conservancy system.
Meanwhile, power supply systems in the central Chinese provinces of Hunan, Hubei, Henan, Jiangxi and Shanxi are also facing significant pressure, the State Grid said.
Another cause of this year's severe power shortage is China's push to transform its economic development pattern by encouraging investment in emerging industries, such as new energy, Xinhua News Agency said.
(China.org.cn May 17, 2011)