With his head lowered, Alidoost wrote Chinese characters carefully on his exercise book, and from time to time he looked up and read the words aloud following the Chinese teacher of the Confucius Institute at Tehran University.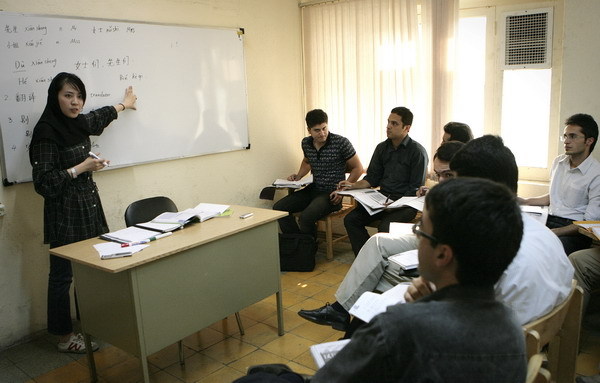 Volunteer Wang Yue from China gives lessons to Iranian students at the Confucius Institute at Tehran University on August 30, 2010. [Xinhua photo]
It is Monday afternoon when a group of Iranians are learning Chinese at the Confucius Institute at Tehran University.
When asked why he came to learn Chinese, the 56-year-old Iranian, who could write Chinese characters well, said, "I've already retired. I learn Chinese solely out of my interest in Chinese culture."
Alidoost told Xinhua that he is also fond of Chinese calligraphy, and insisted that Xinhua reporter write some Chinese characters on his Chinese book, adding joyfully "it is very beautiful, and I love Chinese calligraphy."
During the break, Alidoost expressed his interest in China's Oracle bone scripts, saying he is fascinated with these mysterious symbols. Talking about the history about Oracle bone scripts, he asked curiously whether average Chinese people know something about the ancient Chinese characters incised on animal bones or turtle shells, and if universities in China have majors related to Oracle bone scripts research.
Lots of interactions were seen during the class between the Iranians and their Chinese teacher, Wang Yue, a volunteer teacher of the Confucius Institute at Tehran University, and the latter answered patiently the questions put forward by the students during the class.
Wang Yue asked the students to make a Chinese sentence by using the Chinese phrase "troublesome," Alidoost raised his hand, and said "Learning Chinese is troublesome," which surprised almost everyone in the class.
Then he went on to say "however, learning Chinese is very interesting," and everybody was amused by his words.
There are many Iranians trying to learn Chinese just like what Alidoost is doing.
Mahdavi, 24-year-old, graduated from university last year. He goes to learn Chinese in his spare time. "I like Chinese culture, and I hope to continue my study in China in the future," he said.
He also expressed his wish to make friends with Chinese people who can teach him Chinese, and he will teach them Farsi in return.
Ehsan, a salesman selling computer related products in his early twenties, has been studying Chinese for almost one year. He said in Chinese that he has been to China for three times and knew some Chinese cities like Guangzhou and Shenzhen.
"Shenzhen is a young city, which was designated by Chinese government as a Special Economic Zone 30 years ago," he said.
Three hours passed unconsciously, and the Chinese class ended quickly.
The Confucius Institute, the first in Iran, is co-founded by Yunnan University of China and Tehran University in Iran, which was officially opened in Tehran on January 1, 2009.