The third "Chinese Bridge" language proficiency competition was held at Sweden's Stockholm University on Sunday.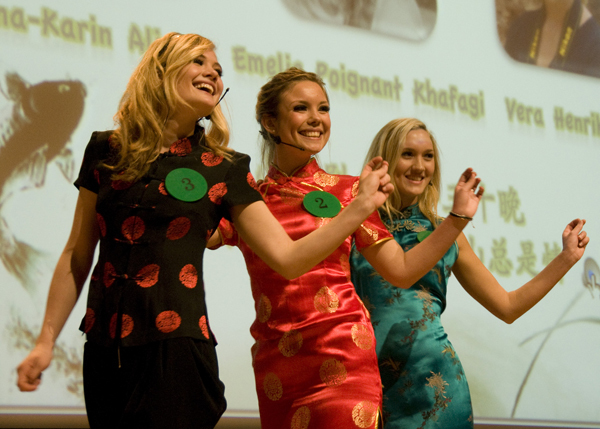 Three students are singing a Chinese song at the Chinese Bridge cup contest, a regular Chinese language competition of Swedish middle school and university students in Stockholm, capital of Sweden, April 10, 2011. Altogether 51 contestants from Sweden participated in the contest. [Photo/Xinhua]
Nine students from Stockholm, Lund and Linkoping Universities and 42 students from a dozen middle schools in Sweden participated in the competition jointly organized by the Chinese Embassy in Sweden and Nordic Confucius Institute in Stockholm.
Professor Thorbjorn Loden said at the opening that more and more Swedish students began to study Chinese.
"I like you to follow the Chinese principle that friendship comes first, competition comes the second and enjoy the process of taking part in the competition," he said in a pep talk before the competition kicked off.
Incomplete statistics show that all the Swedish Universities and over 60 middle schools in Sweden have opened the Chinese courses. The Swedish government has identified Chinese as a second foreign language in an equal position with English, French and Spanish.
In his speech, Chinese Ambassador to Sweden Lan Caijun highlighted the significance to learn the Chinese language.
"First, it opens a good opportunity for your future if you can speak Chinese as Chinese economy is developing rapidly," said Lan.
He also said that it is also better to contact Chinese directly with their native language even though English is mostly spoken in the current world.
The competition includes a prepared speech in Chinese, a Chinese art and cultural show including Chinese pop song singing, poems reading, Taiji Boxing and drama performance.