Dressed in a red Chinese cheongsam, a young Mexican woman called Aurea Lilian was giving a speech during the 10th Chinese Bridge competition, which was held in Mexico City Thursday.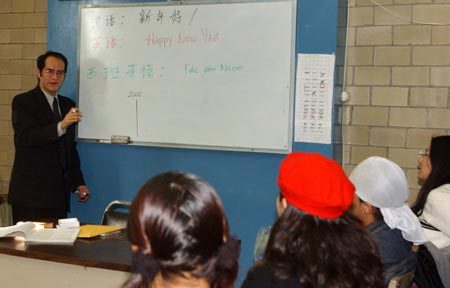 In this file photo, a teacher is teaching students to speak "Happy New Year" in Chinese in a foreign language institute in Mexico City. In recent years, more and more people learn Chinese in Mexico City.
"Chinese language, as a bridge, let me know the faraway country, which is vigorous and full of opportunities and challenges," she said.
She also performed a Chinese folk fan dance, which was choreographed by herself using soft Chinese music.
Lilian, a 20-year-old student from the National Autonomous University of Mexico (UNAM), was one of the four semifinalists who would attend the final competition of Chinese Bridge in China, a Chinese language contest for foreign students from all over the world.
"I will soon realize my dream of visiting China," Lilian told Xinhua with tears of joy in her eyes. "My grandma went to China many years ago and loved the beautiful country very much. Influenced by grandma's experiences, I began to dream of visiting China when I was a little girl."
Lilian started to learn Chinese two years ago. "What a pity, the universities in Mexico do not have departments of Chinese language, so I have to choose psychology as my major," she said, before adding with a smile, "I chose the Confucius Institute in UNAM, and I studied Chinese everyday." She also said she wants to become a Chinese language interpreter in the future.
Johnny Xavier, who won the first place in the competition, talked about his experience in China. "When I finished middle school, my parents wanted to meet one of my requirements as a reward. I said I would like to visit China for several months," he said. "I studied Chinese language in Guangzhou and visited Beijing and Shanghai."
The champion said that for him, oral Chinese is not difficult, but he always spends a lot of time memorizing Chinese characters.
The Chinese Bridge contestants had to pass three rounds during Thursday's competition, including giving a speech, a talent show and answering questions. The students, who come from nine Chinese teaching organizations, talked about their experiences and feelings while learning Chinese or living in China. Chinese songs, folk dances, tongue twisters and traditional Chinese painting were shown to the audience and garnered lots of applause.
Pedro Hernandez, who had studied in China for one year, shocked the audience by excelling at a tough tongue twister.
"What attracts me most in China? It is not Tiananmen Square, not the Great Wall. It is the kind-hearted Chinese people," he said. He also mentioned the help Chinese people gave him during his early months in China.
"I hope one day I can speak Chinese like a native speaker," he said. "I plan to come back to China to continue my study. That would be fantastic if I can become a student in Peking University or Tsinghua University."
The Chinese Bridge competition reflected the Mexicans' enthusiasm for learning Chinese. Since the first Confucius Institute in Latin America was founded in 2006, five Confucius Institutes have opened in Mexico. Various Mexican citizens join Chinese teaching organizations to study Chinese, from children who take Chinese lessons on weekends to businessmen who work with Chinese companies.
Meng Aiqun, dean of the UNAM Confucius Institute, the host of the competition, described Chinese as a "promising major" because an economically powerful China can guarantee the learners' future.
"The Mexican government and citizens attach importance to Chinese teaching. Many parents want their children to learn Chinese," Meng said. "I think Chinese teaching has a broad space for development in Mexico."
The contestants' outstanding performances also impressed Zheng Kejun, cultural councilor of the Chinese embassy in Mexico, who said that more and more people attend Chinese Bridge every year and that the competitive level is also rising.
"Many Mexicans are becoming interested in learning Chinese, which leads to broad contacts and cooperation between China and Mexico," he said. Enditem
(China.org.cn, Xinhua News Agency May 13, 2011)