For many Italian kids, the ongoing celebrations of Italy's unification were an abstract concept until they saw their country's tricolor flag sparkling on Chinese kites in the sky over Turin on Saturday.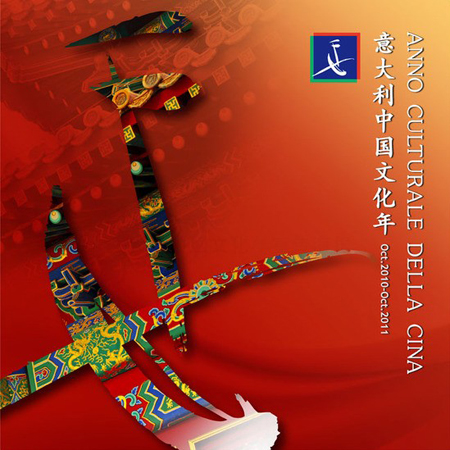 A promotion picture poster of "Year of Chinese Culture in Italy" [File photo]
During the ongoing Year of Chinese Culture in Italy, four Chinese kite masters appositely came to Italy from Weifang, an eastern Chinese city renowned as "the kingdom of kite," to teach Italian children how to make and fly kites.
"In 1861, Turin was the first capital of Italy, whose 150th anniversary this year falls on the Year of Chinese Culture in Italy. Thus, we thought Turin was the most appropriate city to host this meaningful event," Stefania Stafutti, director of the Turin Confucius Institute, told Xinhua.
"The Chinese kite masters brought a very deep message to our children, who can learn how different cultures are strongly linked together by art and history," she added.
In fact, attracted by the Chinese millenary tradition of kites, many children gathered along with their parents in the park of "Villa Regina," a magnificent 17th-century building, which was the old residence of Queen Ann Mary of Orleans in Turin.
With the help of volunteers and teachers of their schools, the children made a number of kites before flying them with enthusiasm.
Many kids were drawing on their kites the Italian tricolor flag or some important figures of the Italian history, such as "fathers of the nation" -- Count Camillo di Cavour who unified northern Italy and Giuseppe Garibaldi who joined southern Italy to the country's northern part.
At the same time, they could learn the rich meanings of the Chinese traditional iconography, from bats and fish symbolizing happiness and abundance to legendary figures such as "Moon lady" Chang'e and supreme strategist Jiang Ziya.
"I like kites because they can fly," an 8-year-old boy Alex Drapant said while drawing a tricolor picture of Italy on a kite.
"I had never played with such a beautiful kite before. My father and I tried to build one once, but we failed," he added with a smile.
Ten-year-old Carlotta Poggio is studying Chinese language in Turin. "One day I will fly to Shanghai, because I know it is a beautiful city," she said.
"More and more Italian children are studying Chinese at primary school," noted a Chinese teacher while helping young Francesco Torta to color his favorite kite, the owl-shaped one.
"Children learn fast and they are naturally open to other cultures and habits. Working with them also helps many adults to better realize how the languages of ancient arts converge in common roots that all countries with millenary traditions can easily share," she said.
(China.org.cn, Xinhua News Agency May 16, 2011)