Hers is not the most typical tale of an expatriate in China. After coming to Beijing to live from her native Italy - her first trip away from Europe - Luciana Rizzo spent most of her first year immersed in language study: English. Then she spent most of her second year pregnant, awaiting the birth of her second daughter, Lucrezia, who arrived just before Christmas last year.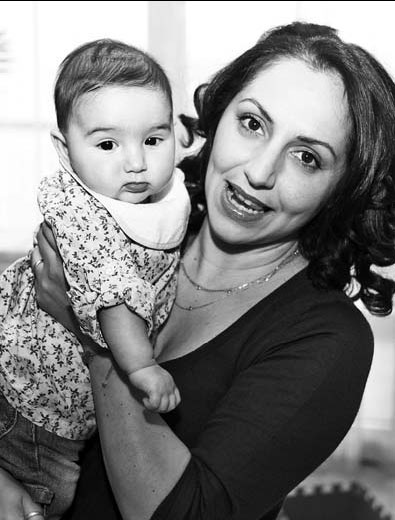 Luciana Rizzo had no qualms about giving birth in China. Her daughter Lucrezia was baptized in Beijing's South Cathedral this weekend.
Bright-eyed and outgoing, the new mom and her baby carriage have become fixtures at meetings of the International Newcomers Network, where Rizzo is an active board member and host of the expat group's monthly "lunch bunch". But the first time she checked out INN nearly two years ago, it wasn't clear she'd found a happy nest.
"I went there very excited about meeting new people like me and learning about life in Beijing. But after the meeting, I came home to my husband Alessandro and burst into tears!" she says, laughing about it now. "I couldn't understand anything anybody said."
That's when she knew that the language she needed to study was English - most expats in China spoke it and most of the Chinese she'd encountered could speak at least a little English, too.
The decision was, coincidentally, a family affair. Her teenage daughter Andrea was enrolled in the British School and studying the English language.
"She was 15 then, a critical age socially, so we had some concern about that when we came," Rizzo says. "But after a month she was fine. She spoke no English when we arrived, but she learned well and now she's starting Chinese."
So is her mom, who values the Mandarin or putonghua she's picked up so far because it helps her connect with local people and the culture - and because it helps feed one of her great passions: Cooking.
"Our ayi is from Sichuan, and she is a very good cook," says Rizzo. "I love to learn from her. I can now make Sichuan eggplant and also mapo doufu - my favorite Chinese dish, I love it!", she says of the bean-curd and minced pork dish set in a spicy chili- and bean-based sauce.
When she arrived, Rizzo had a dream of opening a restaurant in Beijing. But she didn't find the perfect niche, her lack of English was a barrier, and now she has a baby.
But there's always another dream. "I want to retire in Italy at 50 and buy a farm in Tuscany and open a B&B," she says.
Meanwhile, she's become quite comfortable in China - even when the prospect of a new baby brought new pressure from her family to come home.
"They were always worried about me coming to China," she says, since what they'd seen on television made life here seem hard.
But her husband had been smitten by China in his international business. When an Italian firm gave him a post representing its Hangzhou-based plastic-bottle packaging facility, that meant being a week in Italy and three weeks in China.
His wife wanted the family together more than 25 percent of the time, and soon they were making a new life in Beijing.
By the time she was pregnant, the Chinese capital was home.
"From the beginning of my pregnancy, I wanted to stay here," she says. "If I went back to Italy, I would have had to fly before the seventh month, and I probably would have stayed four months after Lucrezia was born before we came back. And most of that time, my husband would be here in China! That just didn't make sense to me.
"Also, in Italy I would have been having the baby in a public hospital - in a room with 10 other women in labor. Here, I was in a Western hospital (Beijing United Family) where I could be private with my husband and we could really enjoy the moment."
Now a slightly wicked grin spreads across her face at having avoided her well-meaning relatives on that occasion.
"At home, there would be relatives every hour, full of advice," she says, laughing. "I love them, but I think this way was healthier for me. And some of my family will be able to come to Beijing for the baptism," which is today at Beijing's South Cathedral near Xuanwumen.
Since the Rizzos hope to stay in China for a while, what language will little Lucrezia learn first?
That's a question that tickles her mother. "She will either be fluent in three languages or totally confused," she laughs.
People who know Luciana Rizzo are betting on the first option.
(China Daily by Mike Peters May 30, 2011)