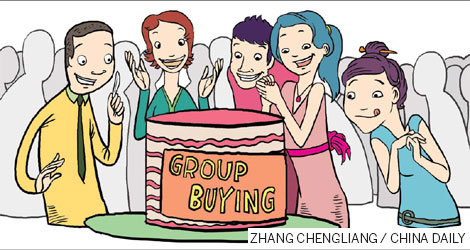 你参加过网络团购吗?是不是感觉砍价更容易了呢?近年来,网上众多志同道合者联合起来,形成集团优势,从商家拿到最低折扣的网络团购正成为越来越多年轻人的消费方式。但在这里也要提醒大家,一定认清资质,小心陷阱。
       请看《中国日报》的报道:
Beijingers have long been known as excellent bargainers, and tuangou, or group buying, is Internet commerce with a Chinese twist.
Acting on the principle that more units you buy, the cheaper the price should be, Chinese consumers are gathering online in locally and nationally based websites to organize group buys, saving thousands of yuan on big items like cars and home furnishings, and getting ultra-discounted tickets to concerts and tours.
...
Group buys are traditionally organized in Internet forums about a particular product. For example, a poster in a forum for a particular car would ask others to come together to buy that vehicle. Once enough members joined the group - typically twelve to fifty depending on the item - the team leader would approach the dealer and negotiate a reduced price. After the terms of the deal are agreed upon, the buyers gather at the dealership, often meeting in person for the first time, and pay for the car. It is not uncommon for these groups to remain intact after the sale.
Being a team leader can be a lot of work, so group-buying websites have sprung up, serving as agents between buyers and sellers and receiving a commission from the sale.
—— Excerpt from Netizens share bulk discounts with tuangou
       组织大家团购是一件劳心费力的差事,所以众多团购网站迅速涌现出来,成为买家和卖家之间的"代理",并从交易中获得一定的佣金。
       上文中的group-buying就是指"团购",名词形式为group buying,即为一个团队向商家采购,国际通称B2T(Business To Team),是继B2B(Business to Business),B2C(Business to Consumer),C2C(Consumer to Consumer)后的又一种e-commerce(电子商务模式),最核心的优势体现在商品价格更为优惠,也称为group buys或group coupon。国外就有一个名叫Groupon的团购网站,即:Groupon = Group + Coupon。
       在group buying活动中,参与者通常能享受到bulk discounts(大幅优惠),获得ultra-discounted tickets(超低价优惠券)。平时在促销活动中,我们也能得到discount coupon(打折券)、rebate coupon(现金券/抵金券),而如果这种优惠券属于cents-off coupons,那就只是"象征性优惠"了。要识别哪家店在打折其实很容易,远远的看见on sale(大甩卖)的牌子就是啦。
       (来源:英语点津)